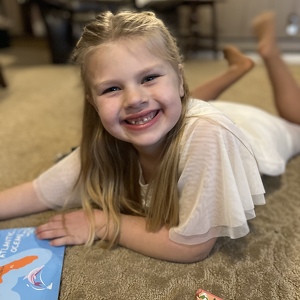 2019 D-Feet Fundraiser Video
Help Support Kenzee!
Join Team Kenzee by taking part in the D-Feet Hearing Loss walk June 4th, making a donation online and/or sending well wishes to Kenzee!
Why YOUR help is so important…
While Kenzee continues to learn and grow with hearing loss, we have made it a mission as a family to give back and raise awareness. The D-Feet hearing loss walk fundraiser gives Kenzee along with us as a family to work together and celebrate what an amazing community we have grown with her hearing loss journey. 
We invite family, friends and the community to help Kenzee reach her goal in raising $500 for her GOLDEN BIRTHDAY (June 7) to be donated to hearing loss foundations in our community. 
April Spero

$38.50

Nick Mackenthun

$35.00

Heather Bradt

$35.00

Joseph Spero

$35.00

Ryan Bradt

$35.00

Kayla Bradt

$35.00

Tanner Mackenthun

Oaklee Bradt

Watson Bradt
0
days
0
hours
0
mins
0
secs
Our Supporters
Aleta Mechtel

June 2022

$100.00

Anonymous

June 2022

Anonymous

June 2022

Pat and Jeff Sayre

Go Team Kenzee! ❤️

June 2022

$36.75

Carter Ostlie

June 2022

$36.75
Aleta Mechtel

June 2022

$100.00

Pat and Jeff Sayre

Go Team Kenzee! ❤️

June 2022

$36.75

Carter Ostlie

June 2022

$36.75

Watson Bradt

May 2022

$35.00

Oaklee Bradt

May 2022

$35.00