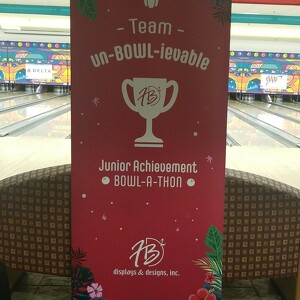 Our Team Fundraising Page
Help Support the FBD2 team, un-BOWL-ievable!!! The Junior Achievement Bowl-a-Thon is an annual fundraising event which helps JA provide financial literacy, entrepreneurship and work readiness programs.
Why Donate You Ask!?
The purpose of Junior Achievement is to educate and inspire students to succeed in a global economy. Student who participate in JA demonstrate:
An increased desire to stay in school
A sense of personal economic empowerment
Preparedness to enter the workforce
Responsibility for personal economic decisions
Entrepreneurial ideas and behaviors
JA programs offer a real world education by bringing respected local businessmen and women into the classroom. These classroom volunteers lead students through JA's hands on programs, which explain and explore how our free market economy works. This blend of education and business gives students an important head start on their career goals and aspirations.
0
days
0
hours
0
mins
0
secs
Our Supporters
There are no recent supporters to display.
There are no top donors to display.