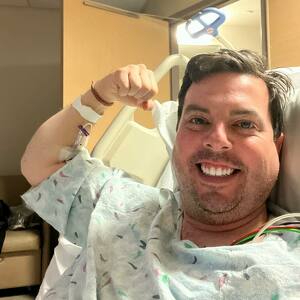 Why We Walk Ahead For A Brain Tumor Cure
It has been six months since Ryan had a meningioma removed on March 9, 2022. We are so grateful for the medical staff at UC who took the best care of Ryan! Join us in walking, running or donating to support research efforts to find a cure for all brain tumors!
Join us as we Walk Ahead for a Brain Tumor Cure on October 16!
BR

Brandon Rogers

$45.00

MS

Michelle Spear

$43.20

K

Kevin Strong

$41.60

M

Mary Strong

$41.60

TW

Trey Webster

$40.00

SW

Susan Webster

$40.00

SS

Scott Soear

$40.00
Our Supporters
Brooke Wagner

October 2022

$25.00

Elizabeth Adkins

October 2022

David Strong

October 2022

$26.00

Trey Webster

September 2022

$100.00

Eileen Kashani

September 2022

$52.00
Rachel Areddy

September 2022

$104.00

Michelle Randall

Ryan, your fight and strength amaze! We love you, Websters!

September 2022

$104.00

Trey Webster

September 2022

$100.00

Jack Berning

September 2022

$100.00

Eileen Kashani

September 2022

$52.00
0
days
0
hours
0
mins
0
secs