Super Ambassador Makenna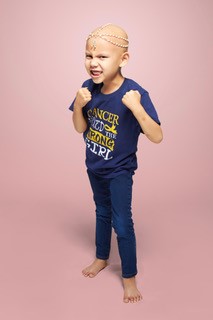 In late May 2020, Makenna began complaining of her back and legs hurting, stomach aches and rapidly losing weight. Her pediatrician referred her to Cure 4 the Kids and in June 2020, Makenna was diagnosed with neuroblastoma. Since then she has had 28 hospital admissions, spending well over 100 nights in the hospital in addition to numerous ER visits and clinic appointments so far. Makenna has had 6 cycles of chemo,15 cycles of chemo/immunotherapy, 2 cycles of immunotherapy, a port placement and tumor biopsy surgery, as well as 2 tumor resection surgeries. She has also had countless scans and 11 bilateral bone marrow biopsies. She is seen by doctors both at our home hospital and clinic in Las Vegas and at CHLA where there is a neuroblastoma specialist and there are treatments currently not available in Las Vegas. Makenna's cancer is refractory, meaning that it is resistant to treatment and she is still fighting to get clear scans. This journey has affected our family in more ways than we can say. It's unpredictable, plagued with uncertainty, and isolating. It's heartbreaking to see your child have to endure all of this and not be able to make all of the bad things go away. But, we also see how truly strong Makenna is. We appreciate all of the little things in a way we didn't before and celebrate every small win. We have also met some of the most incredible, caring, and supportive people along the way.
Angel Ambassador Wesley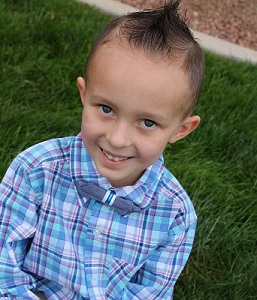 Wesley's cancer journey started on April 14, 2015, when he was diagnosed with Acute Myeloid Leukemia (AML) FLT3-ITD w/a NUP98-NSD1 fusion mutation at the age of 6. Wesley spent several months inpatient at Summerlin Hospital while he underwent 4 rounds of Chemotherapy. Wesley was considered chemo resistant/ refractory because he was not able to achieve remission from chemotherapy. Wesley was then life-flighted to Children's Hospital Los Angeles (CHLA) so that he could receive a "hopeful" life-saving Bone Marrow Transplant from his then 3-year-old brother Ethan. Ethan was his big brother's perfect HLA match! We relocated to LA to live in the Ronald McDonald House as a family for the 3-month admission. Wesley's case was very hard to navigate because of his refractory status. At the 2-hour consolation, we had before his transplant we were informed multiple times that there was no scientific evidence that the transplant would work and that there was below a 10% survival from transplant. Wesley endured numerous TBI radiation sessions without sedation and a 24-hour continual drip of the highest dose of chemotherapy his body could take and on September 25, 2015, at 10:30 am he received his transplant from his brother, his best friend! We just knew he defy the odds like he always had. After 2 months of complete isolation & celebrating his 7th Birthday while isolated in the hospital, we learned that the transplant had worked and that Wesley finally had achieved remission! We were granted permission to actually go home to Las Vegas the week of Christmas and got to have our first "cancer-free" holiday of 2015.
Wesley had weekly checkups back in LA that we had to run him to. It was at one of these checkups on February 22, 2016, that we had learned the devastating news that Wesley had relapsed from his BMT and anything we might try was going to be very experimental! I drove Wesley home that night before he needed to be readmitted to CHLA to start chemotherapy again. Wesley did that 1st round of chemotherapy called Flag-Ida at CHLA and then made the choice to try an experimental treatment back home in Las Vegas at the Oncology clinic as an "outpatient" cancer kid for the first time ever! He had never been with other cancer kids because of the type of cancer he had he was kept in the hospital for 40-50 day stays for every round with 3/4 days of at-home days before the next round started. It was so nice to actually have him home while doing chemo. It was a lot of work keeping his fragile body healthy and away from the outside elements but not having to live in the hospital or in a different state Wesley struggled to get around but fought hard to walk. Wesley was about a week away from being readmitted to CHLA to have a second Bone Marrow Transplant this time from his Dad, but Wesley was hospitalized for a fever on July 24, 2016, at Summerlin Hospital. That admission took us from Summerlin to Primary Children's Hospital in Salt Lake City and that's where we learned that Wesley's cancer had returned. We gave Wesley the choice to continue his journey and were very open with him about his situation or to be done with hospitals and pokes and have a celebration of him before going to be with Jesus. This was Wesley's journey, not ours and he chose to continue his journey and be life-flighted to CHLA where he had been FDA approved for a certain experimental chemotherapy. While he was inpatient at CHLA we learned that his leukemia was not only in his bone marrow and blood but that he was also fighting a secondary cancer that had formed soft tissue tumors because of his primary cancer. Wesley passed away 13 hours after we were informed of the ranging cancers that he was fighting on August 11, 2016, surrounded by his family.