FAQ's
Your safety is our priority. Please be advised of local guidelines regarding COVID-19 and please practice safe social distancing.
When and where is the 5K?
Candlelighters Superhero 5K 2022 will take place at Mountain's Edge Exploration Peak Park on Sept. 17 at 8:00 AM. To find the walk on your GPS or phone, enter 9700 S Buffalo Dr. Las Vegas, NV 89178.
Where can I pick up my registration packet?
If you were unable to pick up your packet at packet pick up be race-ready and come pick up your race bib, runners packet, and any purchased swag at the registration booth on September 17th under the "Bib Pick Up" signs.
What time should I arrive?
We recommend arriving by 7:00 a.m. to allow yourself time to travel from the parking lot, pick up your bib and cape if you were unable to at packet pickup, and enjoy the opening ceremonies!
What is the route?
For those of you that have been with us for quite some time, please be aware of the route changes. There is no half-mile turnaround. 
We will head south on Buffalo until we hit Mountains Edge Pkwy., head west until we hit Durango Dr., head north on Durango until we reach the pedestrian rail to head down into the Paseo, and head east. We will then come up the pedestrian rail and turn North on Buffalo until we hit Gomer where we will turn east and cross Buffalo. Head north towards the finish sign to finish the race and collect your commemorative medal! There will be signs and volunteers to help direct.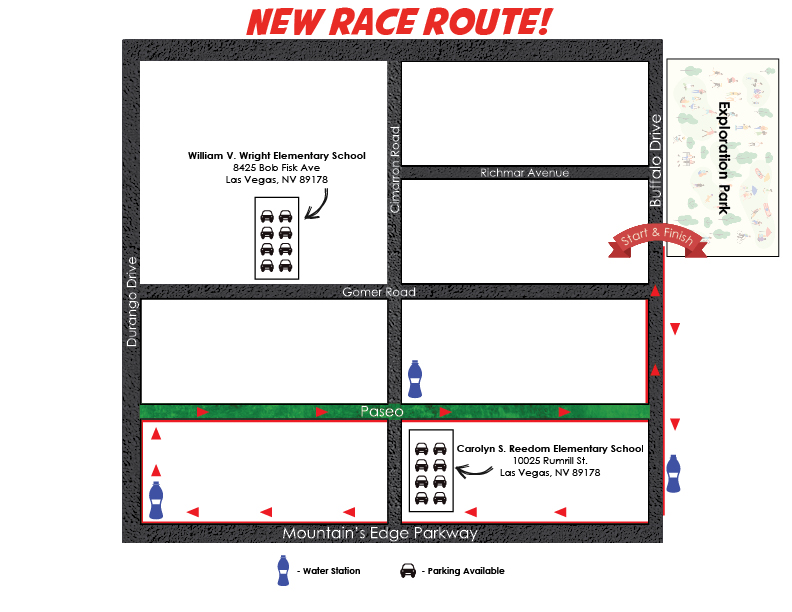 Is parking available?
Yes! Give yourself 10-15 minutes to travel from parking locations to the event. We will have parking available at the following locations
William Wright Elementary School: 8425 Bob Fisk Ave, Las Vegas, NV 89178 *Shuttles will be available*
Carolyn S Reedom Elementary School: 10025 Rumrill St, Las Vegas, NV 89178 *Shuttles Will be available*
The Albertsons parking lot: 7975 Blue Diamond Rd, Las Vegas, NV 89178. *There will not be shuttles provided at this location*
Shuttles will begin to run at 5am, will stop during the race from 8am-9am and will then resume until 11:00 a.m.
How do I know if I am eligible for the VIP Lounge?
For individuals that raise $2,000+ and teams that raise $5,000+  by September 15, 2022, you will gain access to the VIP Lounge where there will be a catered breakfast, wifi, phone chargers, seating, and shade. You will receive an email indicating your access.
Will there be food and drinks?
Yes! We will have water for all plus there are food vendors who will have snacks and drinks.
Are there activities for kids?
The event is fun for the whole family and will have tons of entertainment options for the little ones. We will have bounce houses, giant games, and booths with activities for the kiddos to enjoy!
What should I do with the donations I have collected?
We are thrilled to hear you have raised critical funds to support local Las Vegas families affected by childhood cancer. Please bring any cash or check donations that are not online donations to the registration tent on race day to ensure appropriate credit and recognition. All donations must be turned in by Friday at 5:00 p.m. for award consideration.
Is the event pet-friendly?
Yes, you are welcome to register your 4-legged furry friend! Please have them on a leash and clean up after your pet. Costumes are encouraged!
What if it is raining?
Cancer doesn't quit, so neither do we! Rain or shine we will be out at the park for the Superhero 5K! No refunds will be issued.
Joining us virtually? Here's how a virtual 5K works!