Help Millersville University students to achieve their educational goals and affording them the opportunity to live the American Dream. 
In 2016, American Dream Scholarships were awarded to five students. This year we hope to increase the number of students to receive this scholarship. 
You can do your part by making a donation.
The goal for 2017 is $50,000. 
Fun for Everyone…
Cyclists, Walkers & Teams Wanted
SATURDAY, SEPTEMBER 16, 2017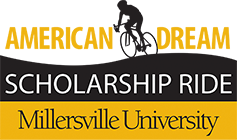 Winter Center 60 W. Cottage Ave.
Millersville, PA | Rain or Shine
Donation Fee: $35/per person
MU students are FREE, but must register

Choose when you register:
Cyclists Routes: 5,10, 20, 30 and 60 miles
Walking Routes: 1, 2 and 6.5 miles

Cue Sheets, support vehicles, food/rest stops and lunch at finish.
Registration deadline  9/11/2017 at noon.
Registrants who raise over $100 will receive a free t-shirt.
Download - Walking Map (PDF)
Download - Cue Sheets for Cyclists (PDF)
Day of Event Information
Registration begins at 6:30 a.m.
Ride starts @ 7:30 a.m.
Rain or Shine
Contact Us
Scheduling and Event Management Office
Millersville University | PO Box 1002 | Millersville, PA 17551-0302
 
Weekdays:
8 a.m. - 4:30 p.m. | 717-871-5926 | special.events@millersville.edu