Thank You Sponsors
There are no sponsors for this event.
Event Leaderboard
BakerHostetler, LLP

$530.00

Tiffany Payne Geyer

$530.00

Douglas Neway

$155.17

Jessica Malchow

$103.45

Janice Driggers

$103.45
View Full Leaderboard
Register Now! Run for Hope 2018!
Join us next year at the 2018 Run for Hope, Saturday, January 20th!
Mark your calendar now and join us this Fall as we start FUNdraising for The Faine House, a program for Children's Home Society of Florida.
January 20, 2018
8AM - 11AM
Lake Eola Park
512 E Washington Street
Orlando, Florida 32801
$30 Registration by 12/31/17
$35 1/1/18-1/19/18
$40 Day of Event
To learn more about The Faine House visit:  https://www.thefainehouse.org/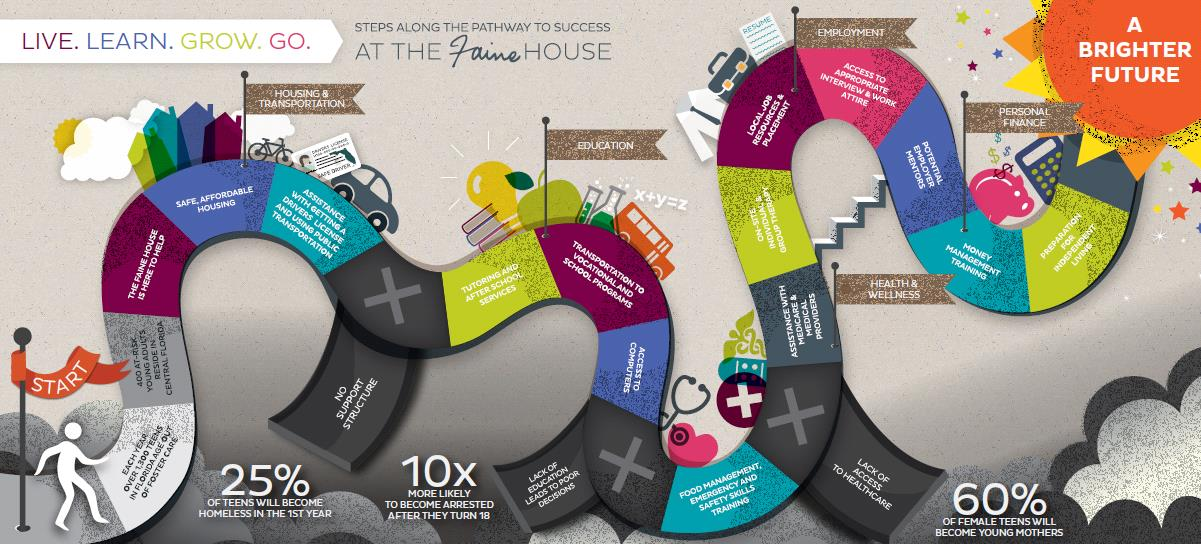 The Run For Hope 5K supports The Faine House, where young men and women formerly in foster care are supported in five essential areas as they move toward independence: education, housing & transportation, employment, health & wellness and personal finance. Upon move-in, each resident crafts a Life Plan to guide their progress. The Faine House assists in their growth through the development of life skills that empower them to enter our community as confident adults. Without help, the realities for youth formerly in foster care are not good:
33% WILL BE HOMELESS WITHIN THREE YEARS
66% WILL DROP OUT OF HIGH SCHOOL
50% WILL BE UNEMPLOYED
60% WILL HAVE UNPLANNED BABIES WITHIN FOUR YEARS
Whether you run, walk or cheer us on, please join us at Lake Eola for the 5k and help us provide brighter futures!
Event Date & Location:
January 20, 2018
8AM - 11AM
Lake Eola Park
512 E Washington Street
Orlando, Florida 32801
Contact Info:
To learn more about The Faine House: TheFaineHouse@chsfl.org
Sponsors: Gregory Vella at greg.vella@cap-val.com
Participants: Robin Longley at robin.longley@chsfl.org

Checks made payable to The Faine House should be sent to:

Children's Home Society of Florida
Attention: RFH 5K
482 S. Keller Road
Winter Park, FL 32810
The Faine House is a program of Children's Home Society of Florida