Event Leaderboard
2

Celebration Restaurant Group

$6,000.00

3

Winter Park Construction

$5,882.10

4

Randall Mechanical

$4,530.00

5

Lionsmark Capital

$4,000.00
View Full Leaderboard
Thank you for Making Run for Hope 2018 a Great Success!!!
Hats off and big kudos to the following sponsors, teams, and individuals that all worked together to raise $100,000 that will bring hope and change lives in our community:
Our sponsors were critical to our success this year.  THANK YOU to our title sponsor, Celebration Restaurant Group! Our platinum sponsor, Lionsmark Capital. Our entertainment sponsors:  V Group Entertainment and WOLF 103.1. Our silver sponsors: Balmoral, Capstone Valuation Advisors, Market on Magnolia, Orlando Orthopaedic Center, The Other Bar on Wall Street, Harry Buffalo, Hawk Development & Construction, Red Team Software, and Shakai Sushi Lounge. And our bronze sponsors:  The LOCAL Butcher & Market, Da Kine, Orange Theory Fitness, Advanced Auto Parts, State Farm and 4Rivers! Thank you to all our wonderful sponsors for your support and commitment to RunForHope 2018!      
Congratulations to all our Individual FUNdraisers for doing an outstanding job of raising awareness and funds for The Faine House. A special thanks to our top three FUNdraisers Kelly O'Donahoe, Lisa Goodmaster, and Diana Chane take for their amazing efforts.  It was incredible watching their totals climb as they asked friends and colleagues to support their efforts.  We are so thankful to all our supporters for their amazing hard work and philanthropy! Thank you all for going above and beyond this year!
In the Team category, For Their Future, WELBRO Building Corporation, and Chardonnay for 49 took the top three places, while WPC, Randall Happy Feet, VGroup, Hope…We Make It also contributed in a very big way. Thank you to all our teams for doing such a wonderful job of bringing excitement to our FUNdraising campaign for 2018 RunForHope.  We look forward to seeing which team will rise to the top next year.
Our Corporate Cup winners for the 2018 RunForHope with the largest teams were Celebration Restaurant Group with 141 participants, and Randall Mechanical Happy Feet with 151 participants! This was AWESOME to see these great Orlando companies support RunForHope. Outstanding job and we look forward to seeing you again next year.
Great job to our sponsors, teams, donors, and individuals! All of you made this year's event very special. We are so thankful for your generosity and amazing support of RunForHope!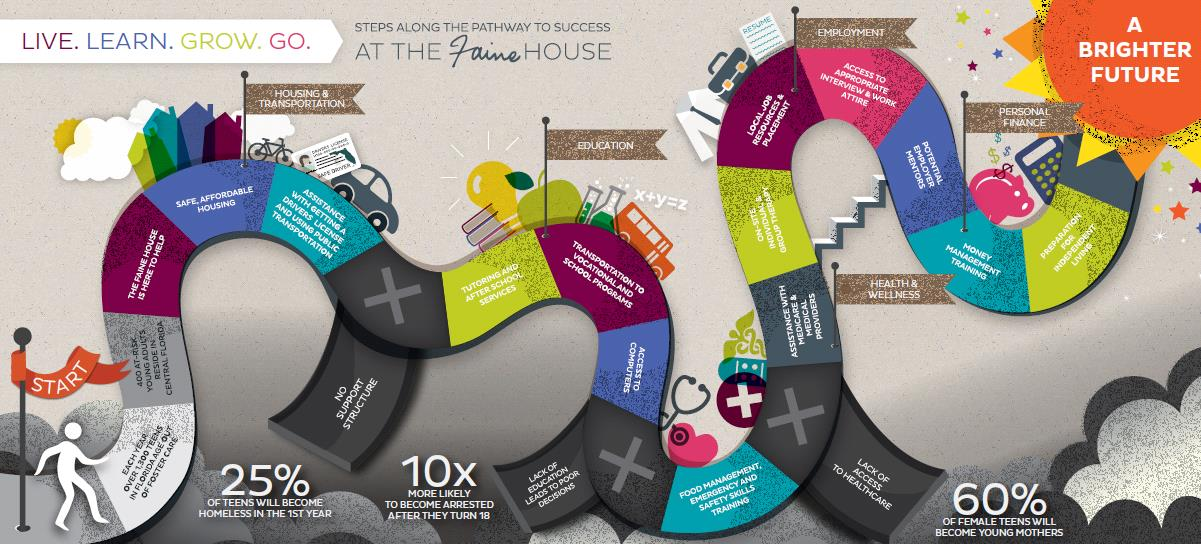 The Run For Hope 5K supports The Faine House, where young men and women formerly in foster care are supported in five essential areas as they move toward independence: education, housing & transportation, employment, health & wellness and personal finance. Upon move-in, each resident crafts a Life Plan to guide their progress. The Faine House assists in their growth through the development of life skills that empower them to enter our community as confident adults. Without help, the realities for youth formerly in foster care are not good:
33% WILL BE HOMELESS WITHIN THREE YEARS
66% WILL DROP OUT OF HIGH SCHOOL
50% WILL BE UNEMPLOYED
60% WILL HAVE UNPLANNED BABIES WITHIN FOUR YEARS
Whether you run, walk or cheer us on, please join us at Lake Eola for the 5k and help us provide brighter futures!
Event Date & Location:
January 20, 2018
8AM - 11AM
Lake Eola Park
512 E Washington Street
Orlando, Florida 32801
Contact Info:
To learn more about The Faine House: TheFaineHouse@chsfl.org
Sponsors: Gregory Vella at greg.vella@cap-val.com
Participants: Robin Longley at robin.longley@chsfl.org

Checks made payable to The Faine House should be sent to:

Children's Home Society of Florida
Attention: RFH 5K
482 S. Keller Road
Winter Park, FL 32810
The Faine House is a program of Children's Home Society of Florida