Event Leaderboard
2

Rochelle Knowles

$1,000.00

3

San Antonio Federal Credit Union - Tim Baldwin

$1,000.00

4

Saint Leo University

$750.00

5

Saint Leo University

$750.00
View Full Leaderboard
Benedictine Sisters of Florida
Touching Lives through Prayer and Service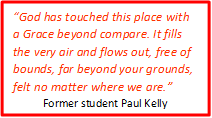 Background -
The Benedictine Sisters of Florida seek God together in community at Holy Name Monastery.  Our life is monastic – a balance of prayer and work on behalf of others.
Being Benedictine is not so much about "doing" as it is "being"- a balance of prayer and work.  It is lived not only by religious, but lay people around the world.  Saint Benedict, our founder, wrote The Rule as a guide for how to live together based on Jesus' teachings.  It offers ageless values for which the world still hungers—community, peace, respect for persons, stewardship, and balance. By embracing and sharing the values of Benedict, the Benedictine Sisters of Florida offer hope to the world that living peacefully together is possible.
How We Live out Our Mission -
The Sisters' great legacy over the past 128 years since coming to Florida is as educators.  They have impacted thousands and thousands of lives as teachers and educational leaders.  Today teaching is still part of their ministries, but their mission also includes:
Prayers for the world
Spiritual direction
Directed or private retreats
Administration of DayStar Hope which helps the poor and homeless
Training in aquaponics - state of the art farming
Support of a local shelter for abused women and children and
Serving on other non-profit boards
Scholarship assistance to students at Saint Leo University
The Sisters outreach would not be possible without the support of our supporters.  Our Annual Dinner/Dance raises awareness of our ministries serving people and helps to fund them.  Our dancers are special friends who have volunteered to bring a fun dimension to this year's event!  They are busy people in their own right, but are committed to help those less fortunate. 
In voting for your favorite dancer, you are helping the Benedictine Sisters of Florida and those they serve.  Our dancers will soon begin rehearsals at Rhapsody Ballroom in Temple Terrace – nice folks who have volunteered their time and talents too!  Please support them by voting beginning January 2, 2018 through the night of the event, March 10, 2018.  Invite your friends and be there!

0
days
0
hours
0
mins
0
secs