Gifting 1,200 Healing Art Boxes in 2018
The Story Behind "The Healing Art Box"
Art & Creativity for Healing Founder, Laurie Zagon, describes what it was like at 9 years old in Queens, New York when an uncle gave her a box of art supplies. She immediately took to a private space in the basement of her home to try out this exciting gift.
"I remember the excitement I felt opening the box and seeing the pastels, colored pencils, and paints. As I began using the supplies I felt like I had opened a treasure chest that could help me say some things about what was going on upstairs that I had no words for. Through art I was able to find a new form of therapy that has helped me through some of the most difficult times in my life. When I started the nonprofit back in the year 2000 I knew getting a 'Box' of art supplies into the hands of children was going to be an important part of our mission as a nonprofit."
The Story of the Healing Art Box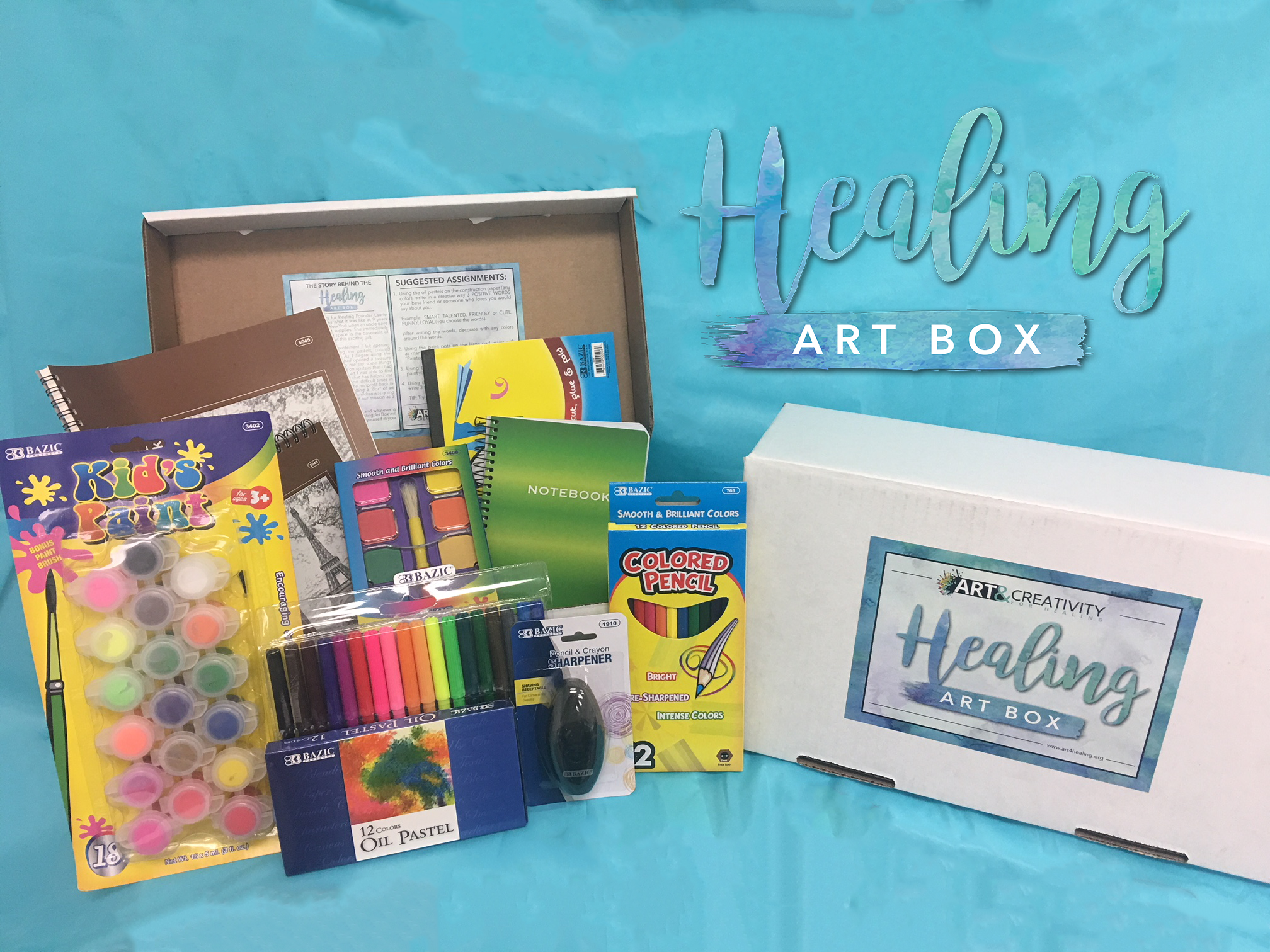 Healing Art Box Contents:
10 Color Fine Line Washable Markers, Color Oil Pastels, 18 Color Kid's Paint w/ Brush, 12 Color Watercolor w/ Brush & Mixing Palette, Mini Construction Paper Pad, 2 Premium Sketch Pad, 12 Color Pencil Set, Personal Spiral Journal, Xtreme Oval Pencil Sharpener, Suggested Art4Healing® Activities
When Life Hurts Little Lives.
When you are a little kid, how do you talk about the very deepest of pains that life can present? 
Homelessness. Illness. Mom or Dad is deployed. Poverty. Hunger. A family member dies.  
When There Are No Words There is Art.  
We're giving kids living with some of life's biggest hurts a box full of paints, crayons, paper, canvases, watercolors, sponges, and pencils.
With color and shape they can give voice without words to big hurts and to big hopes.
But we need your help.
Your gift of $20 means a homeless child can process their fears and insecurity. A young survivor of human trafficking can express new hope. A child in poverty can make their dreams visible. 
Donate now - or create a personal page to collect donations from friends and family.   
Working through our partners we deliver Healing Art Boxes to kids in need:
Western Youth Services 
Orangewood Family & Children Center 
Thomas House Shelter
Boys & Girls Club of Stanton 
Orange County Department of Education ACCESS Program 
Someone Cares Soup Kitchen
Camp Pendleton
CHOC Hospital
American Family Housing
O.C. Rescue Mission
Illumination Foundation
Project Hope Alliance
FaCT Orange County
Rosie's Garage
Thank you for helping us give 1,200 kids a healing art box!
Art4Healing Fundraisers
1

The Capital Group Companies Charitable Foundation

$7,500.00

2

East West Bank

$2,500.00

3

Wells Fargo Foundation

$2,500.00

4

Rhonda Moore Hertel

$2,000.00

5

National Charity League Capistrano Coast Chapter

$1,000.00
View Full Leaderboard
Healing Art Box Giveaway to San Onofre School 2017