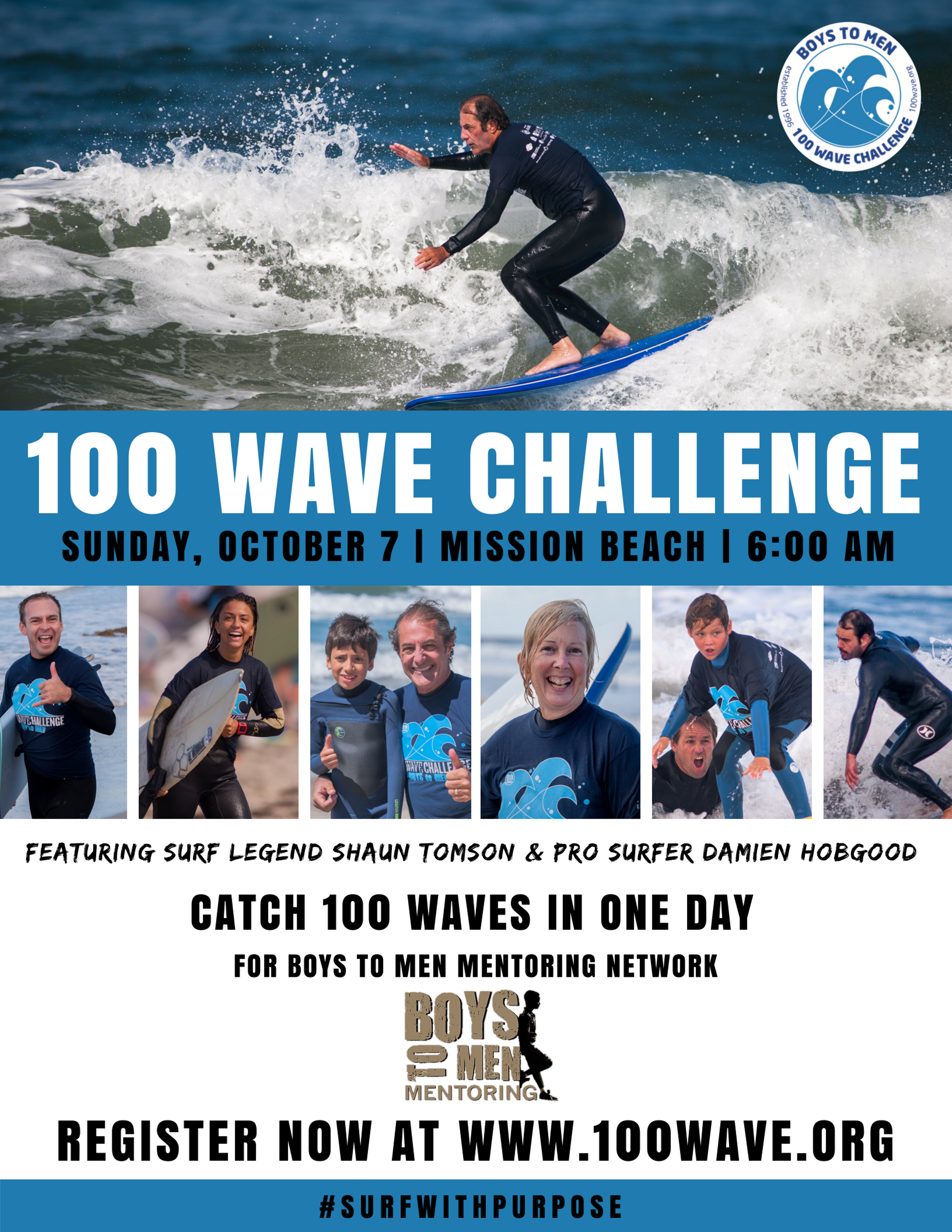 "I challenge YOU -- I am making a promise to bring three of my surfing buddies to join me in taking the Boys to Men 100 Wave Challenge in 2018. These boys NEED our help!"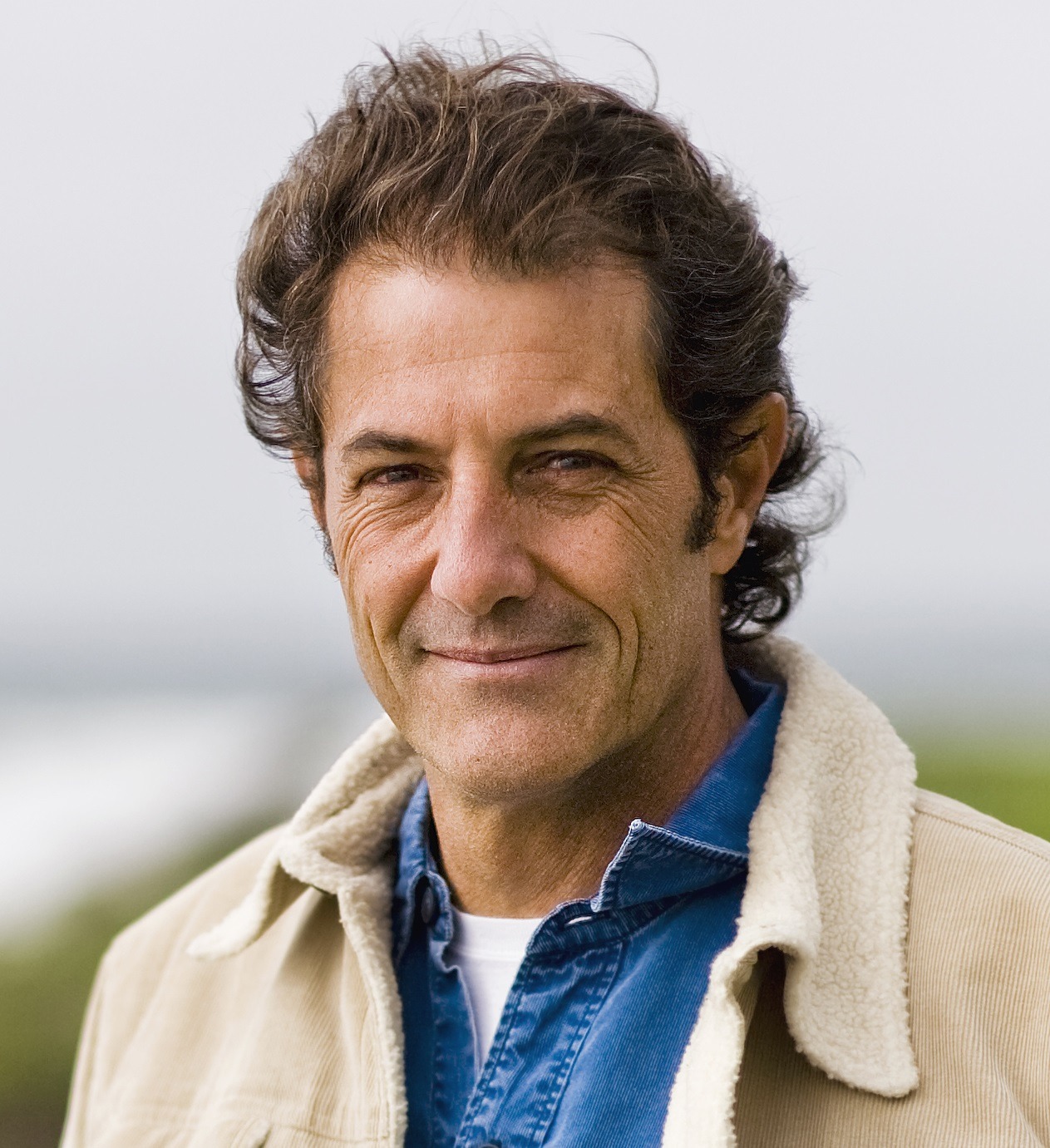 Shaun Tomson
Surfing Legend, 1977 IPS World Champion
"This is our chance to be PART OF THE TRIBE. This year is my fifth time surfing 100 waves in one day for Boys to Men and once again, I'M ALL IN!"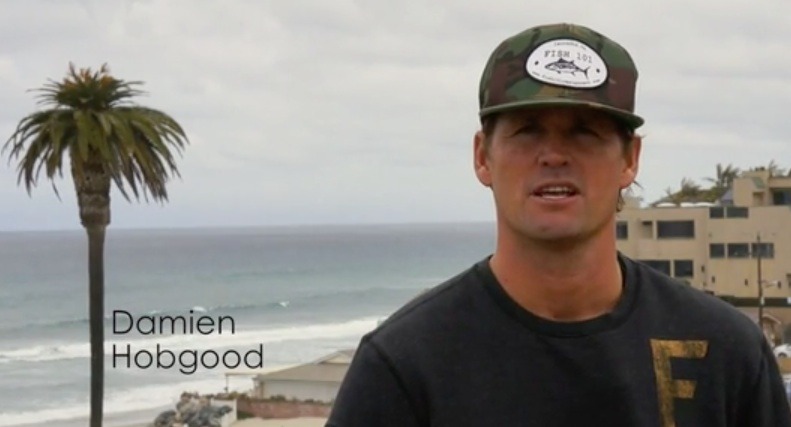 Damien "Damo" Hobgood
Professional Surfer, Member of WCT
100 Wave Challenge Event Information
On Sunday, October 7th hundreds of surfers will hit the water at Mission Beach in San Diego, CA to support Boys to Men Mentoring and help boys become good men. Shaun Tomson, Damien Hobgood and their friends will be there. Don't miss this opportunity to surf with the pros!  
The goal is for each surfer to raise $1,000 for Boys to Men Mentoring and attempt to catch 100 waves in 1 day. Whether you catch 100 waves or 20 waves, you will leave the water knowing you made a difference. 
EVENTS DETAILS AND SCHEDULE
When

: Sunday, October 7, 2018
              6:00am - Check-In Opens, Breakfast
              7:30am - Facebook Live filming
              8:00am - Welcome and Surfer Circle
              8:15am - Group Photo
              9:00am - Surfer Check-in Closes
             10:00am - BTM BBQ Lunch Begins
              2:00pm - Lunch ends        
              4:00pm - Event ends
Special hours are listed below as well: 
8:00am - 2:00pm: Raffle Ticket Sales
9:00am - 2:00pm: 100 Wave Gear Store Hours
9:00am - 3:00pm: Massage Zone Hours
10:00am - 2:00pm: Yoga Consultations Available
Where

: Mission Beach (south of Belmont Park)
             End of San Fernado Place
             Mission Beach, CA 92109
Parking is available by first come first serve in parking lot behind Belmont Park and just past Adventure Golf on Mission Blvd.  Additional parking is available in surrounding parking lots that are just a quick walk away from event location on beach.
All Event Participants Receive:
Breakfast AND lunch provided by event sponsors
Event rash guard
Access to 1200 square feet of shade, comfortable outdoor furniture and ice cold drinks in the 100 Wave Surfer Lounge



Those Who Fundraise A Minimum of

$250

ALSO Receive:
Huge 100 Wave Challenge beach towel

Swag bag full of sponsor product samples, coupons and freebies
CHECK OUT THESE ADDITIONAL PRIZES:
Raise $1,000 - Receive a 

wave-counting

 watch!*
$2,000 - Free SOUPLANTATION for one year!**
$3,000 - A new 

WETSUIT

 from Bird's Surf Shed!***
$5,000 - You score a new 

SURFBOARD

!***
$8,000 - 

WETSUIT

and 

SURFBOARD

!***
TEAMS that Fundraise $25,000 Combined
Win a two night surf weekend at Las Gaviotas in Baja California****
* First year surfers only
** 24 comp meal tickets; only eligible for surfers who raise $2,000 - $2,999
*** from Bird's Surf Shed in-store stock
**** Team of 2-8 surfers must raise $25,000 combined and teams of 9-12 must raise $35,000 combined forfeiting all other prizes and choosing the surf weekend with all expenses paid, food prepared and even your transportation provided by Boys to Men!
Your friends and family are welcome to join us for a day of fun, surf and sun! Our famous BBQ grill will be cooking burgers and dogs (as well as veggie burgers) for your family beginning at 10:00am.
Surfers are free to use the surfer's lounge, hang out on the couches, and enjoy a free massage.