About
KING OF THE CORN HOLE TOURNAMENT THIS SATURDAY @ 8:00AM
Thank you for playing in the 2nd annual King of the Corn Hole Tournament. Below you will find the official rules, event timeline, parking information, and other details. Teams should plan to arrive at 8am and check in at the registration table.
Bring the family and your lawn chairs and cheer on all our teams as they compete for the King of the Corn Hole Chattanooga title!
LOCATION: Car Express (Off Hwy 153 and Shallowford Road, 2226 Encompass Drive) 
KID ZONE: Kids and families are welcome to come out and enjoy the tournament. We will have a special kid zone with fun games and activities.
BRACKETS: Tournament brackets will be available upon arrival. Players can pick these up at the registration table along with their goody bags and t-shirts, if applicable. 
FOOD/DRINK: Food and drinks will be available on-site thanks to Jim and Nicks, Big River Grille & Brewery, and Coca-Cola. Each player will receive a complimentary beer ticket. All other beer purchases will be cash only. Jim and Nicks will be providing food at No Charge, donations welcomed.
PARKING: Free Parking will be available to players and spectators. Please follow the signs. Volunteers will also be on-site to assist with parking.
DOOR PRIZE GIVEAWAYS: We have some great door prizes this year including concert tickets, gift cards, service packages, and more. Tournament players are automatically entered to win. There will be drawings throughout the event so pay attention to our event MC's.
For more information or help signing up, contact Sarah Griffith at Sarah.Griffith@rmhchattanooga.com
SPONSORS
Wolfe Plumbing
Official Rules
Teams of two will play in a single elimination style tournament supporting Siskin Children's Institute and Ronald McDonald House Charities. Rounds will be determined and announced at the event. Each team will receive four corn hole bags for game play. Personal bags will NOT be allowed. Teams will play to 21 points by Simple ACA (American Corn Hole Association) rules. There will be NO BUST RULE in this tournament meaning you will NOT go back to 15 if your team goes over 21. The first team to score 21 or go over 21 will WIN the game. This change in the ACA rule is to make sure games do not last too long and prolong the tournament play.
Visit https://www.playcornhole.org/aca-official-rules-of-cornhole-corn-toss/ for more information about corn hole rules.

Simple Scoring In simple scoring the points are totaled at the end of each ½ inning and the smaller score is subtracted from the larger score and the difference in points is awarded to the team scoring the most points that ½ inning. In this scoring method only one team can score per ½ inning.

Master of ceremonies will announce the teams for each new round and what board set they will need to report to. There will be 16 board sets allowing 32 teams to play at the same time. The first round will begin at approximately 8:30 AM.
If tied at 21 points teams will play until one has accumulated the most points at the end of a set.
Rounds
Round One: Two Qualifying Rounds of 32 Teams
Round Two: One Round of 32 Teams (16 teams advance to Round of 16)
Round of Sixteen: One Round of 16 Teams (8 teams advance to Quarter-Final Round)
Quarter-Final Round: One Round of 8 teams (4 teams advance to Semi-Final Round)
Semi-Final Round: One Round of 4 teams (2 teams advance to Championship Round)
Championship Round: Last Round of 2 teams play for the King of the Corn Hole Title!
Siskin Children's Institute achieves its mission locally and nationally through four initiatives: education, health care, home visiting, and outreach. The Institute provides early childhood education where children with and without disabilities learn together; family support and professional development programs; developmental pediatric health care; and home and community-based early intervention.
For more information about Siskin Children's Institute, visit: www.siskin.org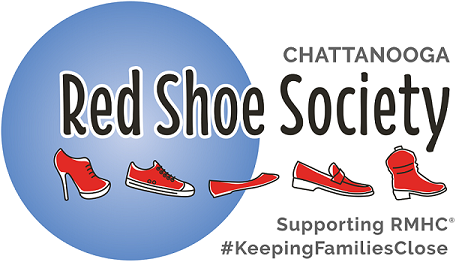 The Red Shoe Society is a group of philanthrophic young professionals who work together to raise funds, encourage new volunteers, and enhance awareness of RMHC of Greater Chattanooga. 
The mission of Ronald McDonald House of Greater Chattanooga is to provide families with the care and resources they need when their child is sick and to support programs that directly improve the health and well-being of children.
For more information about RMHC of Greater Chattanooga, visit: www.rmhchattanooga.com