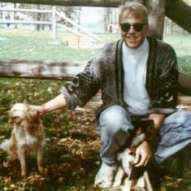 PLEASE SUPPORT ME DURING AIDS WALK 2018
IN MEMORY AND IN HOPE!
Each year I do my walk in memory of my late partner, Jon Hoffer, who we lost to AIDS on May 4, 1996. This spring, I observed the 20th Observance of Jon's passing with a few quiet moments. Were he here today, I know that Jon would be walking with us as we take these critical steps in memory of those we have lost and in the hope for a better tomorrow. 
In the 21 years since Jon's passing, HIV has evolved. Indivuals living with the disease are living quality filled lives. Medical regimens help prevent the further transmission of the disease. BUT the fight is not over. There are still critical prevention, treatment, and support services that remain essential. That is why this Walk is so important. Having sat on a local planning HIV planning body from 1992 through 1996, Jon would understand this need. Please support our work. The HIV Care and Prevention work that LAAN does remains critical. Your donated dollars come directly to LAAN to provide services in this community. Thank you.
0
days
0
hours
0
mins
0
secs
My Supporters
Marilyn Dorsey

September 2018

$50.00

Anonymous

In Memory of Jon Hoffer

September 2018

$325.00

Family and Friends of Jon Hoffer

September 2018

$100.00

Cella-Mar Studio of Hair Design

September 2018

$70.00

Marcella Osenbaugh-Valle

September 2018

$100.00

Ellen Ives

September 2018

$50.00

Rose Jones

September 2018

$5.00

Walter Winsor

September 2018

Robert Winsor

September 2018

$50.00

Patrick and Sandee Crowley

September 2018

$50.00

Mike and Cindy Distel

September 2018

$30.00

Rex & Gina Mast

September 2018

Sandy Soifer Paul Goldner

September 2018

$500.00

Jake and Rosemary Distel

September 2018

$50.00

Jacob Distel

August 2018

$150.00

Chad Hewitt

August 2018

$100.00

Mark Stoffan

August 2018

Kelli Anderson

August 2018

$25.00

Elizabeth Weihl

August 2018

Glynda Moorer

To Support Jake Distel in the A:IDS WALK

August 2018
Sandy Soifer Paul Goldner

September 2018

$500.00

Anonymous

In Memory of Jon Hoffer

September 2018

Jacob Distel

August 2018

$150.00

Family and Friends of Jon Hoffer

September 2018

$100.00

Marcella Osenbaugh-Valle

September 2018

$100.00

Chad Hewitt

August 2018

$100.00

Olivia Martin

Thank you Jake for continuing your good work! Those facing AIDS still need you and your supporters. Thank you, Olivia & Jerry

August 2018

$100.00

Laurie Lutomski Janet Wollet

We love you Jake!

August 2018

$100.00

Jacob Distel

June 2018

$100.00

Cella-Mar Studio of Hair Design

September 2018

$70.00

Marilyn Dorsey

September 2018

$50.00

Ellen Ives

September 2018

$50.00

Robert Winsor

September 2018

$50.00

Patrick and Sandee Crowley

September 2018

$50.00

Jake and Rosemary Distel

September 2018

$50.00

Mike and Cindy Distel

September 2018

$30.00

Kelli Anderson

August 2018

$25.00

Rose Jones

September 2018

$5.00