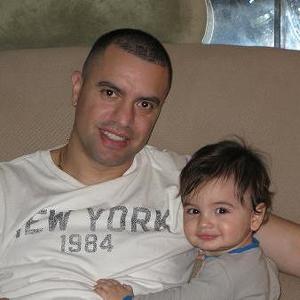 The Piriz Family Prion Disease Fundraiser
In Loving Memory of Sonia Piriz and Jose Piriz
NYPD Officer, Jose A. Piriz, passed away in 2014 from a genetic Prion Disease (Gerstmann-Straussler-Scheinker Disease) at only 36 years old. His mother, Sonia, also passed away from this disease in 2006. Jose left behind a wife, and at the time of his passing, a 2 year old son.

Prion Diseases are classified as 100% fatal neurodegenerative diseases in which there is currently NO CURE or TREATMENTS AVAILABLE. There are three categories of Prion Disease: Familial, Acquired and Sporadic. Since research for this disease is extremely underfunded, it has become the Piriz Family's life mission to help fight against Prion Diseases by raising money for much needed research through the CJD Foundation Family Grants. Donations go towards the "Jose A Piriz and Sonia E. Piriz Memorial Grant" awarded by the CJD Foundation.

Please help support our cause and all those affected by this disease.  
My Supporters
Sheldon Adler

Last month

$265.00

Pampered Chef

December 2019

$262.50

United Brotherhood of Carpenters and Joiners of America Local Union 157

December 2019

$1,000.00

NYC and Vicinity District Council of Carpenters

November 2019

$1,200.00

Giulia Laterza

November 2019

$30.00

Howard K. Schoenfeld, Attorney at Law

November 2019

$250.00

Julie Bedard

October 2019

$200.00

Local Union 1556

From Local Union 1556

October 2019

$500.00

Eric and Barbara Marcinkiewicz

October 2019

$100.00

Donna Buonomo

You ladies do an amazing job every year. God Bless you!!❤️

October 2019

$100.00

Amanda Mclaughlan and Family

What a wonderful thing to do each year in honor of your loved ones. I pray they will find a cure very soon. God bless.

October 2019

$100.00

Dyna-Tech Sales Corporation

October 2019

$265.00

Dawn Marcinkiewicz

October 2019

$106.00

Adam Locke

October 2019

$100.00

Christine & Michael Siglain

Love from Michael, Christine, Stella & Vivian

October 2019

Beth Munsinger

October 2019

John Boyle

October 2019

$500.00

Michele Ryga

October 2019

Lisa Galis

September 2019

$100.00

Jenny Eng

Hi Karla, Thank you for sharing your story to me and explaining this Disease. I hope this fundraising not only raise more awareness among communities but hopefully get closer to finding a solution to combat this. Thank you!

September 2019

$40.00

Carolyn Farrell

September 2019

$84.30

JANET VILLAMAR

May 2019

$50.00

Doug & Alice Kraus

April 2019

$250.00

Stephen & Theresa Stolarik

April 2019

$20.00

Lisa Singleton

March 2019

$26.50

Anonymous

March 2019

Amanda Raymond

March 2019

$106.00

Candice Jarome-Davis

January 2019

$25.00

Concetta Ledwalk

January 2019

$25.00

Rosanna Bobbio

November 2018

$100.00

Sheldon Adler

November 2018

$212.00

Local Union 1556 of UBCJA

November 2018

$500.00

Michele Ryga

November 2018

$100.00

Cristina and Walter Dini

October 2018

$200.00

Tina M. Albano

October 2018

$100.00

RKHB Group LLC

October 2018

$100.00

John D. Ljuljic

October 2018

$50.00

Linda Kozik

October 2018

$50.00

Theresa and Stephen Stolarik

October 2018

$40.00

Paula Calimano

October 2018

$40.00

Giulia Laterza

October 2018

$40.00

Theresa and Stephen Stolarik

October 2018

$20.00

Greg and Jean Wurzburger

October 2018

$20.00

Lorraine Chiapperino

October 2018

$20.00

Jonathan W. Lyon

October 2018

$20.00

United Brotherhood of Carpenters Local Union 157

October 2018

$1,000.00

Amanda & Kevin Mclaughlan

We pray there will be a cure for prion one day soon. Keep up the fight and God Bless.

October 2018

$50.00

Donna Buonomo

October 2018

$50.00

Lisa Galis

October 2018

$100.00

Kristen Schwaner

October 2018

$106.00

M. Viola

October 2018

$25.00

Susan Viola

October 2018

$50.00

Jeffrey Langer

Sorry we can't be there this year....good luck with your goal!!

October 2018

$250.00

Howard and Lisette Schoenfeld and Dapena

Hi Lauren Sorry we cannot attend. I will be away As always wishing you the best Luv u

October 2018

Anonymous

Keep up the fight! Love you guys! Love, Susan LaBeau & Sandra Windels

October 2018

Jeffrey Brill

I am pleased to support your mission of helping families affected by Prion Disease about which I was previously unfamiliar until learning about it from Karla Piriz.

October 2018

$200.00

Lucy Pedulla

October 2018

$100.00

Jesse Peters

October 2018

$53.00

Paula Calimano

October 2018

$53.00

Susan Harrington

October 2018

$26.50

Carpenter Local 926 of Brooklyn

October 2018

$500.00

Jennifer Huang

October 2018

$50.00

Paul Sanabria

For the piriz prion disease Found raiser from Paul and Quisquella Sanabria

October 2018

$1,060.00

Maria Pagan

October 2018

$25.00

United Brotherhood of Carpenters & Joiners of Americal - Local Union 45

September 2018

$1,000.00

Colleen Fragiorgi

September 2018

$50.00

Anonymous

September 2018

$106.00

Angelica Estrada

September 2018

$30.00

Christina Carey

September 2018

$159.00

Tina Calia

Sonia and Jose will always be in our hearts and watching us from heaven with my parents.

September 2018

$53.00

Adam Locke

September 2018

$106.00

Laura Riker

Love you guys

September 2018

$50.00

Lea Haber Kuck

September 2018

$212.00

New York City & Vicinity District Council of Carpenters

September 2018

$1,200.00

Brian Prochaska

September 2018

$100.00

Brian Prochaska

September 2018

$100.00

Mike Axelson

September 2018

$21.20

Giulia Laterza

September 2018

$30.00

Jordan Wall

Thank you to the Piriz family for continuing this work!

September 2018

$106.00

Aaron Murphy

September 2018

$50.00

Janet Mediate

September 2018

$26.50

Anonymous

September 2018
NYC and Vicinity District Council of Carpenters

November 2019

$1,200.00

New York City & Vicinity District Council of Carpenters

September 2018

$1,200.00

Paul Sanabria

For the piriz prion disease Found raiser from Paul and Quisquella Sanabria

October 2018

$1,060.00

United Brotherhood of Carpenters and Joiners of America Local Union 157

December 2019

$1,000.00

United Brotherhood of Carpenters Local Union 157

October 2018

$1,000.00

United Brotherhood of Carpenters & Joiners of Americal - Local Union 45

September 2018

$1,000.00

Local Union 1556

From Local Union 1556

October 2019

$500.00

John Boyle

October 2019

$500.00

Local Union 1556 of UBCJA

November 2018

$500.00

Carpenter Local 926 of Brooklyn

October 2018

$500.00

Sheldon Adler

Last month

$265.00

Dyna-Tech Sales Corporation

October 2019

$265.00

Pampered Chef

December 2019

$262.50

Howard K. Schoenfeld, Attorney at Law

November 2019

$250.00

Doug & Alice Kraus

April 2019

$250.00

Jeffrey Langer

Sorry we can't be there this year....good luck with your goal!!

October 2018

$250.00

Sheldon Adler

November 2018

$212.00

Lea Haber Kuck

September 2018

$212.00

Julie Bedard

October 2019

$200.00

Cristina and Walter Dini

October 2018

$200.00

Jeffrey Brill

I am pleased to support your mission of helping families affected by Prion Disease about which I was previously unfamiliar until learning about it from Karla Piriz.

October 2018

$200.00

Christina Carey

September 2018

$159.00

Dawn Marcinkiewicz

October 2019

$106.00

Amanda Raymond

March 2019

$106.00

Kristen Schwaner

October 2018

$106.00

Anonymous

September 2018

$106.00

Adam Locke

September 2018

$106.00

Jordan Wall

Thank you to the Piriz family for continuing this work!

September 2018

$106.00

Eric and Barbara Marcinkiewicz

October 2019

$100.00

Donna Buonomo

You ladies do an amazing job every year. God Bless you!!❤️

October 2019

$100.00

Amanda Mclaughlan and Family

What a wonderful thing to do each year in honor of your loved ones. I pray they will find a cure very soon. God bless.

October 2019

$100.00

Adam Locke

October 2019

$100.00

Lisa Galis

September 2019

$100.00

Rosanna Bobbio

November 2018

$100.00

Michele Ryga

November 2018

$100.00

Tina M. Albano

October 2018

$100.00

RKHB Group LLC

October 2018

$100.00

Lisa Galis

October 2018

$100.00

Lucy Pedulla

October 2018

$100.00

Brian Prochaska

September 2018

$100.00

Brian Prochaska

September 2018

$100.00

Carolyn Farrell

September 2019

$84.30

Jesse Peters

October 2018

$53.00

Paula Calimano

October 2018

$53.00

Tina Calia

Sonia and Jose will always be in our hearts and watching us from heaven with my parents.

September 2018

$53.00

JANET VILLAMAR

May 2019

$50.00

John D. Ljuljic

October 2018

$50.00

Linda Kozik

October 2018

$50.00

Amanda & Kevin Mclaughlan

We pray there will be a cure for prion one day soon. Keep up the fight and God Bless.

October 2018

$50.00

Donna Buonomo

October 2018

$50.00

Susan Viola

October 2018

$50.00

Jennifer Huang

October 2018

$50.00

Colleen Fragiorgi

September 2018

$50.00

Laura Riker

Love you guys

September 2018

$50.00

Aaron Murphy

September 2018

$50.00

Jenny Eng

Hi Karla, Thank you for sharing your story to me and explaining this Disease. I hope this fundraising not only raise more awareness among communities but hopefully get closer to finding a solution to combat this. Thank you!

September 2019

$40.00

Theresa and Stephen Stolarik

October 2018

$40.00

Paula Calimano

October 2018

$40.00

Giulia Laterza

October 2018

$40.00

Giulia Laterza

November 2019

$30.00

Angelica Estrada

September 2018

$30.00

Giulia Laterza

September 2018

$30.00

Lisa Singleton

March 2019

$26.50

Susan Harrington

October 2018

$26.50

Janet Mediate

September 2018

$26.50

Candice Jarome-Davis

January 2019

$25.00

Concetta Ledwalk

January 2019

$25.00

M. Viola

October 2018

$25.00

Maria Pagan

October 2018

$25.00

Mike Axelson

September 2018

$21.20

Stephen & Theresa Stolarik

April 2019

$20.00

Theresa and Stephen Stolarik

October 2018

$20.00

Greg and Jean Wurzburger

October 2018

$20.00

Lorraine Chiapperino

October 2018

$20.00

Jonathan W. Lyon

October 2018

$20.00