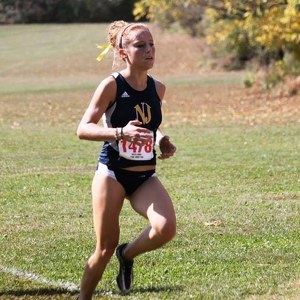 Boston Marathon
Supporting the CJD Foundation
As many of you may know, my name is Megan Flynn and I am a physical therapist who primarily treats patients with neurologic diagnoses. Over the course of my education, career, and personal life I have encountered many different diseases/diagnoses. One of these diseases is considered very rare and is known as Creutzfeldt-Jakob Disease (CJD), which is the disease that my grandmother passed away from.
Outside of work, I am an avid runner and I am currently registered to run the Boston Marathon on April 15, 2019. I would like to run this marathon in support of the CJD foundation not only to raise funds for research but to also raise awareness of this rare disease.
CJD is a terrible disease where infectious, indestructible protein-like particles known as prions attack the brain and the rest of the central nervous system. It leads a rapidly fatal deterioration for the person afflicted with the disease and is gut-wrenching to watch as a family member.  It is stated that the disease is 1 in a million, but since my grandmother's diagnosis and becoming involved with the CJD foundation, it has become apparent that this disease might not be as rare as it is said to be. Currently, there is no cure for CJD, but a lot of research is being performed.
This is where the idea for a fundraiser comes in.  I would like to raise as much money as possible in support of CJD research.  I am not asking for a specific amount of money for a donation, just whatever you feel comfortable giving as every penny goes a long way in learning more about this disease.
Please let me know if you have any questions and I would be happy to answer them.  Feel free to pass this link along as well. Thank you in advance for your support!
My Supporters
Karyn Baig

Proud of you!!

April 2019

$50.00

Karyn Baig

Proud of you!!

April 2019

$50.00

Roberta Rizzo

Way to go Megan !!!!!

April 2019

$26.50

Michael Ippolito

April 2019

$21.20

James Seyffart

Kick some butt

April 2019

$106.00

Randi Alexander

With love and support

April 2019

$36.00

Dana Flynn

April 2019

Tracey Russell

Go, Megan, go!!

April 2019

$106.00

Marie Baldwin

Best of luck to you Megan at not only the Boston Marathon but also to reaching your goal of curing this horrible disease. Your grandmother was a wonderful person and so are you for keeping her memory alive and for trying to eradicate this awful disease ! L

March 2019

$26.50

Sheila Kreitzman

March 2019

$26.50

Marguerite Caimi

Best Wishes Megan. This is such a loving tribute to your grandmother.

March 2019

$50.00

Breanna Manley

March 2019

$26.50

Shawn Flynn

March 2019

$53.00

Sandra Schultz

March 2019

$100.00

Alan Tanz

February 2019

$20.00

Jakeem Johnson

Good luck in Boston! I know you'll crush it!

February 2019

$25.00

Jeanne Negin

Good luck Megan!

February 2019

$25.00

Tony Kharitonov

January 2019

$53.00

Norman & Jill Kurzeja

Hi Megan, Good luck with the race. Here's to a PR. Jill & Norm

January 2019

$106.00

Pat and Mary O'Toole

Good luck with the race!

January 2019

$53.00

Susan Gearhart

Have a great run!!

October 2018

$37.10

Anonymous

October 2018

$50.00

Anita Davidson

Go Megan!! So proud of you!!

October 2018

$50.00

Marguerite Caimi

Best wishes for a successful marathon run and fundraiser.

October 2018

$53.00

Jody Flynn

Great cause!! Grandma is proud of you!!

October 2018

$100.00

Scott Savage

Good luck!

October 2018

$50.00

Janis Flynn

Good luck Megan!

October 2018

$100.00

Megan Flynn

October 2018

$50.00
James Seyffart

Kick some butt

April 2019

$106.00

Tracey Russell

Go, Megan, go!!

April 2019

$106.00

Norman & Jill Kurzeja

Hi Megan, Good luck with the race. Here's to a PR. Jill & Norm

January 2019

$106.00

Sandra Schultz

March 2019

$100.00

Jody Flynn

Great cause!! Grandma is proud of you!!

October 2018

$100.00

Janis Flynn

Good luck Megan!

October 2018

$100.00

Shawn Flynn

March 2019

$53.00

Tony Kharitonov

January 2019

$53.00

Pat and Mary O'Toole

Good luck with the race!

January 2019

$53.00

Marguerite Caimi

Best wishes for a successful marathon run and fundraiser.

October 2018

$53.00

Karyn Baig

Proud of you!!

April 2019

$50.00

Karyn Baig

Proud of you!!

April 2019

$50.00

Marguerite Caimi

Best Wishes Megan. This is such a loving tribute to your grandmother.

March 2019

$50.00

Anonymous

October 2018

$50.00

Anita Davidson

Go Megan!! So proud of you!!

October 2018

$50.00

Scott Savage

Good luck!

October 2018

$50.00

Megan Flynn

October 2018

$50.00

Susan Gearhart

Have a great run!!

October 2018

$37.10

Randi Alexander

With love and support

April 2019

$36.00

Roberta Rizzo

Way to go Megan !!!!!

April 2019

$26.50

Marie Baldwin

Best of luck to you Megan at not only the Boston Marathon but also to reaching your goal of curing this horrible disease. Your grandmother was a wonderful person and so are you for keeping her memory alive and for trying to eradicate this awful disease ! L

March 2019

$26.50

Sheila Kreitzman

March 2019

$26.50

Breanna Manley

March 2019

$26.50

Jakeem Johnson

Good luck in Boston! I know you'll crush it!

February 2019

$25.00

Jeanne Negin

Good luck Megan!

February 2019

$25.00

Michael Ippolito

April 2019

$21.20

Alan Tanz

February 2019

$20.00