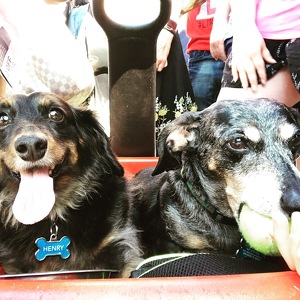 Jessica Cali
The Boys Are Back In Town!!
#goweiners #hotdogstotherescue
Why we give
Family and Fuuuuuuuriends,
Mom says its about that time for us to put our good looks and good hearts to use! We are raising money and doing a charity walk event for our fellow rescue pups who need treats and lots of love! Help us smash our goal and take the lead in fundraising this year! 
Benefiting:
My Supporters
Deanna LAcey

Love to the boys

February 2019

$50.00

Elisa Godat

We expect a 1st ribbon or a blue place this time!

February 2019

$52.00

Marcie Craig

So proud of you, boo.

February 2019

$32.03

Anonymous

Proceeds from fundraiser

February 2019

Jessica Cali

From Auntie Kim!

February 2019

$20.00

April Price

January 2019

$10.00

Wendy L

January 2019

$15.60

Tyler, Mason and Parker Synoga

For our favorite fur cousins!! Xoxo

January 2019

$20.80

Anonymous

Puppy Christmas!

December 2018

$78.00

Anonymous

December 2018

$104.00

Jessica Cali

$20- From Auntie Natalie $20-From Auntie Adriana $5-From Uncle Laron $5-From Piper $10-From Sarah

November 2018

$60.00

Anonymous

Luv from Texas!!!

November 2018

$52.00

Marcie Craig

Love you, boo. Give my nephew puppies lots of kisses. I miss you all. Xoxo

November 2018

Jade Cali

October 2018

$41.60

Anonymous

Good luck!

October 2018

$78.00

Alice Wages

October 2018

$52.00

Anonymous

October 2018

Joseph Cali

Good luck to my grand doggies!!! Grandma and grandpa are rooting for you!!! Go get that trophy

October 2018

$50.00
Anonymous

December 2018

$104.00

Anonymous

Puppy Christmas!

December 2018

$78.00

Anonymous

Good luck!

October 2018

$78.00

Jessica Cali

$20- From Auntie Natalie $20-From Auntie Adriana $5-From Uncle Laron $5-From Piper $10-From Sarah

November 2018

$60.00

Elisa Godat

We expect a 1st ribbon or a blue place this time!

February 2019

$52.00

Anonymous

Luv from Texas!!!

November 2018

$52.00

Alice Wages

October 2018

$52.00

Deanna LAcey

Love to the boys

February 2019

$50.00

Joseph Cali

Good luck to my grand doggies!!! Grandma and grandpa are rooting for you!!! Go get that trophy

October 2018

$50.00

Jade Cali

October 2018

$41.60

Marcie Craig

So proud of you, boo.

February 2019

$32.03

Tyler, Mason and Parker Synoga

For our favorite fur cousins!! Xoxo

January 2019

$20.80

Jessica Cali

From Auntie Kim!

February 2019

$20.00

Wendy L

January 2019

$15.60

April Price

January 2019

$10.00