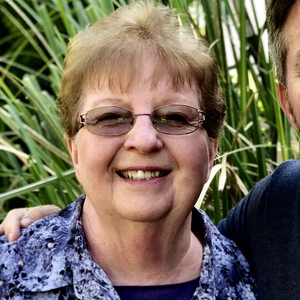 Mary Rozich Memorial Fundraiser for the Creutzfeldt-Jakob Disease Foundation
Creutzfeldt-Jakob Disease (CJD) is a rare, rapidly progressive neurodegenerative disease, one of several Prion Diseases caused by prion proteins that misfold in the brain. There is no treatment or cure and the disease is invariably fatal. The mission of the Creutzfeldt-Jakob Disease Foundation is to support families affected by Prion Disease, raise awareness, and support medical education and research. We carry out this mission through:
Our Mother's Story
Our vibrant, loving mother, Mary Rozich, was diagnosed with Creutzfeldt-Jakob Disease (CJD), on October 13, 2018. After initially thinking she had contracted a flu virus four weeks earlier, she progressively declined in her cognitive, communication, vision, and gait abilities. Over the course of the twelve days following her diagnosis, she rapidly regressed, losing her ability to speak, recognize her husband and children, see, and eventually losing consciousness. After a few days of suffering from severe facial lymphedema and essentially falling into a comotose state, our intelligent, outgoing, amazing mom was taken from us by this hideous disease. Literally four weeks prior to her passing, she was living life as usual...actively involved in the lives of her children and grandchildren as well as countless people whom she poured herself into. Our beautiful mother was a selfless and giving individual and it is with her generous spirit in mind, that we work to raise awareness and funds that would go toward finding a cure for CJD.
My Supporters
John Massoglia

December 2018

$100.00

Anonymous

December 2018

Pamela Ries

Remembering Mary's beautiful smile and selfless life. Her beautiful family is her legacy and testimony for the Christ-filled life she led.

December 2018

$265.00

Burritt Family

Your mom was so special in every way. She was the nicest person and set such a good example for everyone around her. It was an honor getting to know your mom while growing up. The Rozich family always made me feel like I was part of the family and it w

November 2018

$106.00

Bob and Donna Kurti

November 2018

$500.00

Donnette Kugel

November 2018

$26.50

Cris and Emilie Stickley

Our prayers are with your family

November 2018

$53.00

Tracy VanderMeer

November 2018

$53.00

Anonymous

This is a small contribution to help in the search for a treatment that will spare others the horror of this disease.

November 2018

$159.00

Eleanor Borghesi

November 2018

$106.00

Dave & Lu Deater

Always enjoyed visiting with Mary at Big Star Lake.

November 2018

Dale & Colleen, Nathan & Serena, Samantha & Adam RITCHIE

Rozich family, We have been blessed to have Mary for the past 33 years as our neighbor. As our kids were growing up Joe would bring treats Mary had made to our kids. These afternoon visits became a high point of Nathan and Samantha's growing up years. We c

November 2018

$250.00

Eric Monroe

Our thoughts and prayers are with you and your family, Eric and Anne Monroe

November 2018

$106.00

Wolf Family

Thank you for your work on behalf of families who have been impacted by this horrendous disease. The Wolf Family

November 2018

$2,000.00

Katie Smith

November 2018

$100.00

Steve & Dianne Rozich

Remembering with love and admiration for the special woman who touched our lives ❤️

November 2018

$106.00

Mary Jane Rademacher

The Rozich family is in our prayers. ❤ Love, Jane and Sally

November 2018

$100.00

Gloria & Ray Clark

Sending hugs and condolences on the loss of your mother. What a horrific disease.

November 2018

$50.00

Laura York

Dear Rozich Family , I am honored to donate to the CJD cause and foundation . Your Mother was a beautiful soul here in Earth and I feel blessed to have come to know her. God Bless you and your family Laura , Avalon , Aidan and Ella

November 2018

$50.00

Gary & Lori Bolthouse

Our thoughts & prayers go out to this beautiful, loving, caring person. Our heartfelt sympathy goes out to all her family...

November 2018

Tom and Kathy Nugent

So sorry Glen. Your Mom was an awesome lady. Our thoughts and prayers to you and your family. Tom and Kathy

November 2018

Alyssa Ellison

You were so loved Aunt Mary- and will be deeply missed.

November 2018

$53.00

Sue Murley

It was a blessing and honor to have met Mary through the many Soccer games we attended for my daughter and her granddaughter, Sam. She and Joe attended my sons Football games, and included us as if we were part of there family. There are people in this w

November 2018

$53.00

Bausch + Lomb Surgical Team

The loss of one's mother is by far the saddest event of anyone's lifetime. There is just no other loss that measures up to this one. We join in with everyone who knew your mom in wishing you peace and comfort as you face this very sad time. Our thoughts

October 2018

$275.60

Dan Sloan

October 2018

$100.00

Anonymous

In honor of Mary Rozich, a kind, gentle spirit whose children, grandchildren and extended family lived just a sparkle better because of her love. Your legacy will live on...Your Arizona Family, Christina, Adlai & Henry Reuss

October 2018

claudia lucaire

I will miss MB and her kindred and loving spirit!

October 2018

$100.00

Emily Needham

October 2018

$106.00

Sofina, Susanna, Sarina and Julie and Ken Lin Family

We love you Mary. We all felt your love, your kindness, and your selflessness. Thank you for you. Our hearts and support go out to your beautiful family.

October 2018

$250.00

Rod and Sue Ellison

We are hopeful that this donation will help find a cure through research. We send our condolences to the Rozich family.

October 2018

$26.50

Mary Thomas Smith

I loved Mary Beth Like a Mother and if a cure can be found to help other people it would be want she would have wanted. She was a kind giving soul who will be missed. Fly with the angels my darling.

October 2018

$53.00

Nicole Fitzpatrick

October 2018

Stephanie Stamoolis

October 2018

$25.00

Maile Carigon

October 2018

$53.00

Glen Rozich

October 2018

$100.00
Wolf Family

Thank you for your work on behalf of families who have been impacted by this horrendous disease. The Wolf Family

November 2018

$2,000.00

Bob and Donna Kurti

November 2018

$500.00

Bausch + Lomb Surgical Team

The loss of one's mother is by far the saddest event of anyone's lifetime. There is just no other loss that measures up to this one. We join in with everyone who knew your mom in wishing you peace and comfort as you face this very sad time. Our thoughts

October 2018

$275.60

Pamela Ries

Remembering Mary's beautiful smile and selfless life. Her beautiful family is her legacy and testimony for the Christ-filled life she led.

December 2018

$265.00

Dale & Colleen, Nathan & Serena, Samantha & Adam RITCHIE

Rozich family, We have been blessed to have Mary for the past 33 years as our neighbor. As our kids were growing up Joe would bring treats Mary had made to our kids. These afternoon visits became a high point of Nathan and Samantha's growing up years. We c

November 2018

$250.00

Sofina, Susanna, Sarina and Julie and Ken Lin Family

We love you Mary. We all felt your love, your kindness, and your selflessness. Thank you for you. Our hearts and support go out to your beautiful family.

October 2018

$250.00

Anonymous

This is a small contribution to help in the search for a treatment that will spare others the horror of this disease.

November 2018

$159.00

Burritt Family

Your mom was so special in every way. She was the nicest person and set such a good example for everyone around her. It was an honor getting to know your mom while growing up. The Rozich family always made me feel like I was part of the family and it w

November 2018

$106.00

Eleanor Borghesi

November 2018

$106.00

Eric Monroe

Our thoughts and prayers are with you and your family, Eric and Anne Monroe

November 2018

$106.00

Steve & Dianne Rozich

Remembering with love and admiration for the special woman who touched our lives ❤️

November 2018

$106.00

Emily Needham

October 2018

$106.00

John Massoglia

December 2018

$100.00

Katie Smith

November 2018

$100.00

Mary Jane Rademacher

The Rozich family is in our prayers. ❤ Love, Jane and Sally

November 2018

$100.00

Dan Sloan

October 2018

$100.00

claudia lucaire

I will miss MB and her kindred and loving spirit!

October 2018

$100.00

Glen Rozich

October 2018

$100.00

Cris and Emilie Stickley

Our prayers are with your family

November 2018

$53.00

Tracy VanderMeer

November 2018

$53.00

Alyssa Ellison

You were so loved Aunt Mary- and will be deeply missed.

November 2018

$53.00

Sue Murley

It was a blessing and honor to have met Mary through the many Soccer games we attended for my daughter and her granddaughter, Sam. She and Joe attended my sons Football games, and included us as if we were part of there family. There are people in this w

November 2018

$53.00

Mary Thomas Smith

I loved Mary Beth Like a Mother and if a cure can be found to help other people it would be want she would have wanted. She was a kind giving soul who will be missed. Fly with the angels my darling.

October 2018

$53.00

Maile Carigon

October 2018

$53.00

Gloria & Ray Clark

Sending hugs and condolences on the loss of your mother. What a horrific disease.

November 2018

$50.00

Laura York

Dear Rozich Family , I am honored to donate to the CJD cause and foundation . Your Mother was a beautiful soul here in Earth and I feel blessed to have come to know her. God Bless you and your family Laura , Avalon , Aidan and Ella

November 2018

$50.00

Donnette Kugel

November 2018

$26.50

Rod and Sue Ellison

We are hopeful that this donation will help find a cure through research. We send our condolences to the Rozich family.

October 2018

$26.50

Stephanie Stamoolis

October 2018

$25.00