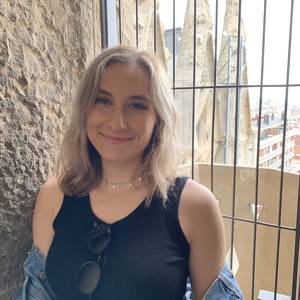 Jillian Rosenzweig
April 14, 2020 - April 30, 2020
0
days
0
hours
0
mins
0
secs
My Favorite Swift Memories!
Why I Fundraise for Swift
Hi! Thank you for visiting my page and thank you for making a donation to the Swift Youth Foundation! If you are hearing about Swift for the first time, welcome! At Swift Youth Foundation we focus on creating the path from present to potential through peer mentor relationships.  For decades, we've been able to facilitate meaningful peer mentor relationships between youth and teens through our weekly after school programs, monthly Swift Saturday programs, and at our Camp Swift overnight camp each summer.  In recent years, we've added additional programs for teen leadership development at both the middle school and high school levels – thus enabling us to expand and deepen our impact in the community.
Swift has been a huge part of my life for almost six years. I have made countless friendships, memories, and have learned so much from the amazing experience that is Camp Swift. Not only does Swift provide these children with the opportunity to attend a sleep-away camp at no cost, but throughout the school year, there are after-school programs, Swift Saturday's, and even the Swift Carnival. Swift Youth Foundation has been a rock for everybody involved, including past and current volunteers, and of course the kids. I am forever grateful that I am able to be such a big part of this foundation. I appreciate you and your generosity in making Swift Youth Foundation what it is today.  
If you would like, Swift provides you the opportunity to apply for a tax credit donation for when you file your 2018 (OR 2019 taxes if you already filed for the previous year). 
For reference...
A $800 Tax Credit Donation Amount for Joint Filers Provides year-round after school, weekend, and overnight camp programs for one child. 
$400 Tax Credit donation amount for Single Filers Sends one child to a 5-day session of Camp Swift.
$100 Provides a cabin of campers the chance to go canoeing!
$50 Buys supplies for a week of Swift After School!
$25 Provides art supplies for Swift After School participants!
$10 Feeds 1 Camper a grilled cheese and tomato soup lunch on Grilled Cheese Day at Camp Swift (the best day ever btw)!
There is Nothing Like Swift
My Supporters
davis pearce

he passed away one year ago. he was my brother basically

April 2019

$10.51

Karen Stein

April 2019

Penny Goodman

April 2019

Ethan Weiss

April 2019

Jillian Rosenzweig

April 2019

$26.29

Anonymous

April 2019

$100.00

Ron Beach

March 2019

Jacqueline Pincus

March 2019

Barbara Rosenzweig

March 2019

$52.57

Julie and Andy Gruber

March 2019

$100.00

Michele Cohen

March 2019

$52.57

Elaine Coluccio

March 2019

$50.00
Anonymous

April 2019

$100.00

Julie and Andy Gruber

March 2019

$100.00

Barbara Rosenzweig

March 2019

$52.57

Michele Cohen

March 2019

$52.57

Elaine Coluccio

March 2019

$50.00

Jillian Rosenzweig

April 2019

$26.29

davis pearce

he passed away one year ago. he was my brother basically

April 2019

$10.51