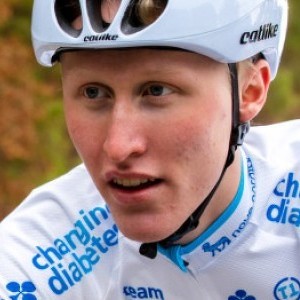 John McClure
My Personal Fundraising Page
Dear Family and Friends, 
This summer. I will be doing the Haute Route Pyrenees cycling event as part of the Team Type 1 contingent.  You may not be aware that TT1 is the largest diabetes and sports organization in the world.  Its vision is a world without the common stigma that those with diabetes "can't" and the mission is to level the playing field for those with the disease. 
To fulfill this mission TT1 provides scholarships and leadership training to student-athletes with type 1 diabetes, and it fields a junior cycling team of riders living with type 1.  These cyclists are the talent pipeline to TT1's sister organization, professional cycling team, Team Novo Nordisk.  These athletes inspire and empower others living with the disease.  TT1 has made it possible for our son Reid to pursue his dreams as a professional cyclist and to serve as an inspiration to others.  I have seen this inspiration first hand with diabetic kids meeting and talking with Reid after races.
TT1 also advocates globally for equal and affordable access to diabetes.  For example, in 2018 TT1 had discussions with the Rwanda Ministry of Health that resulted in the country adding blood glucose testing strips to its national insurance program.  For the first time diabetics in Rwanda have affordable access to life saving medical supplies.
Team Type 1 is an excellent organization that most definatley improves the lives of those with diabetes.  If you would like to offer your financial support to TT1 please click on the link below.   I note that the TT1 riders doing the Haute Route event are paying their own way and that the professional team, Team Novo Nordisk, is self-financed and receives no funding from TT1.   I want you to know that all funds you contribute to TT1 will be used directly in advancing their vision and mission.
Thank you in advance for your consideration and support! 
My Supporters
Bradley Cunnin

August 2019

$200.00

Sheila Wappel-McLean

August 2019

$262.37

Michael mezei

Have a great ride, Michael and Andrea.

August 2019

$262.37

Donna Cunnin

July 2019

$104.95

T2M Agent Services Ltd.

Go diabetics go.

July 2019

$262.37

Burgundy Asset Management

July 2019

$250.00

Mark Gallien

Good luck John!

July 2019

$250.00
Sheila Wappel-McLean

August 2019

$262.37

Michael mezei

Have a great ride, Michael and Andrea.

August 2019

$262.37

T2M Agent Services Ltd.

Go diabetics go.

July 2019

$262.37

Burgundy Asset Management

July 2019

$250.00

Mark Gallien

Good luck John!

July 2019

$250.00

Bradley Cunnin

August 2019

$200.00

Donna Cunnin

July 2019

$104.95