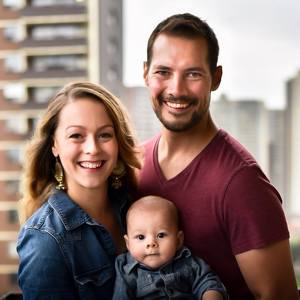 My Personal Fundraising Page
Welcome to Nigel & Jessie's Prayer Journey page!
Our fundraising goal this year is $25,000, and thanks to a large matching fund, all gifts will be DOUBLED. Thus, our matched goal is $50,000!
Your gift of $5, $50, $500, $5K or any other amount helps us reach our goal!
The Prayer Journey is a prayer-and-awareness event. It is also our largest annual event fundraiser. The Prayer Journey helps to fund the work of MoveIn throughout the whole year.
This year the funds we raise will go towards raising up new MoveIn teams around the world, good-news-sharing and discipleship resources, supporting tremendous coworkers around the world, and raising up new leadership and staff. Jessie & I are also supporting many of our coworkers' high-impact projects - see "Projects" above.
MoveIn has 30 staff, and 400 people on 84 teams in 39 cities in 13 countries - so as you can imagine it takes a lot of resources to make it all happen.
The Prayer Journey is taking place this year on Saturday, June 15, 2019. Yes, the Prayer Journey is a fundraiser, but its primary purpose is prayer and awareness. Participants journey and pray through routes of high-needs neighbourhoods that do not yet have teams. We pray for teams to form, and that the neighbourhoods will be blessed and transformed. This year we expect to have more than 400 participants in over 30 Prayer Journey routes across the world.
The route Nigel, Jessie and Courage will be participating in this year is the 10km Prayer Journey in Houston, Texas. Did you know that Houston is the fourth biggest city in the U.S.? It has a metro population of six million! MoveIn does not yet exist in Houston so as a family we will be traveling there to meet with key individuals and churches. Like every other route around the world, the Prayer Journey will happen in Houston on Saturday, June 15, 2019.
If you would like to support the work of MoveIn and our own individual ministry work, this is your opportunity. Don't forget that all donations are DOUBLED by a generous matching fund. By God's grace, Jessie and I have hit our fundraising goal each year. Help us do it again! Every dollar helps. Please join us in prayer as well.
Gratefully in Christ -- Nigel, Jessie and Courage
My Supporters
Anonymous

June 2019

$8,000.00

Megan Kunder

June 2019

$210.00

Anonymous

Hope you will be able to match the full amount. God bless you as you journey. Love, Mary

June 2019

Jennifer Nasmith Yandt

Love to all four of you!

June 2019

Samuel Jacob

God Bless... Have a safe ride!

June 2019

$105.00
Anonymous

June 2019

$8,000.00

Anonymous

June 2019

$7,750.00

Anonymous

June 2019

$5,000.00

Anonymous

June 2019

$1,200.00

Al & Deb Lowrie

May 2019

$500.00