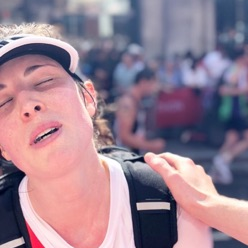 Jen Tyson
November 3, 2019
Jen's Fundraising Page for the 2019 Chicago and NYC Marathons
Hi everyone
Thanks so much for taking the time to visit my fundraising page, I really appreciate it!
Having repressed the pain of running the Paris and London marathons within two-weeks of each other last year (see my profile picture for evidence of how tough London was and a face that says "whhyyy?..."), I'm ready to run TWO marathons AGAIN this Autumn! I'm running the Chicago Marathon on 13 October and the NYC Marathon on 3 November and will be dedicating my Summer to training. This may sound nicer than training in the Winter but it means I will be missing out on spontaneous after-work drinks in pub gardens and hot, lazy Sundays spent lounging in the garden/at the park/by the lido. Think of me while I run 20+ miles in 20+ degree heat!
As they are US marathons, the list of qualifying charities are US-based too and I have chosen to fundraise for Junior Achievement of New York. JA New York supports over 90,000 students from reception to secondary school in NYC, Long Island and the Lower Hudson Valley, many of them from underprivileged backgrounds and living in difficult circumstances. JA New York helps children by providing them with the knowledge and skills they need to make positive academic and financial choices, plan for the future and achieve economic success. Through its network of over 7,200 volunteers, who share their life experiences and expertise, act as role models and provide valuable mentorship, the organisation delivers free workshops in topics such as financial literacy, career planning and starting a business as a young entrepreneur.
I chose JA New York because it just makes sense to me to teach children this essential knowledge at a critical moment in their lives and start building their confidence in these areas early on, especially those who may not otherwise have the means, guidance or even self-belief to aspire to academic and career success. Through JA New York, the students are encouraged, inspired and empowered to take ownership of their financial security and achieve their full potential in the working world.
If you would like to learn more about JA New York's work and the people it supports, here are some helpful links:
My goal is to raise $2,500 for JA New York by 3 November and I would be incredibly grateful for your support. Please help me help this organisation transform the lives of its students by making a donation – any amount will be hugely appreciated and will certainly make all the hours spent training instead of enjoying the Summer worth it.
Thank you in advance for your donations!
_________________________________________
Just a couple of notes on the donating process - there is no need to add a phone number, so if you are having issues with adding a valid number, please refresh and try again without adding a number at all. And for all my colleagues, there is no need to tick the"Matching Donation" box as once I have finished fundraising I will apply to get the whole amount matched.
0
days
0
hours
0
mins
0
secs
My Supporters
Eleanor Desveaux

The very best of luck Jen - you are superwoman!!! We look forward to hearing how it all goes. Mike and Ell xxx

October 2019

$40.00

Matt Tyson

Love you always, Matt

October 2019

$30.00

Refinitiv

September 2019

$50.00

Valerie Kirschmann

September 2019

$51.75

James Bowman

All the very best Jen. I hope schedule and regime will allow for a Maker's Mark at the Green Mill Cocktail Lounge

September 2019

Carla OHanlon

September 2019

$25.87

Stephen Down

September 2019

$26.00

Jennifer Tyson

Bake sale

August 2019

$205.00

Refinitiv MG for Jen Tyson

August 2019

$1,000.00

Tom Bridge

Hey, your running here! See you in the Windy City. Love Tom

August 2019

$50.00

Lesli Fairchild

August 2019

$77.62

Sarah Percy

You are incredible! Go smash it, Jen! Love you! Sarah, James & Boys xxx

August 2019

$51.75

Dino Papaevripides

Amazing. Well done Jen.

August 2019

$31.05

Emily Ayris

Good luck to my favourite! You're going to smash it! Xxxx

August 2019

$51.75

Shil Patel

You are absolutely bananas for doing this (again!) - but what an incredible feat. Best of luck JenBen!

July 2019

$25.87

Pip and Martin Bridge

Go Jen !! Happy Birthday- happy running . We so proud of you.

July 2019

$100.00

Brandon Meneguzzi

July 2019

$51.75

Anonymous

July 2019

$10.00

joanna morton

Good luck Jen!

July 2019

$51.75

Anonymous

June 2019

Alice Sahba

Good luck, Jen! x

June 2019

$30.00

Gemma Formby

Go Jen! I'm always amazed and inspired by your marathon running. Best of luck x

June 2019

Lex Garnham

June 2019

$51.75

Christopher Mckee

Jen wishing you all the best from one fellow runner to another. Great and worthy cause. And best of luck with the hard yards and I'm sure you'll have some memories from this!

June 2019

$25.00

Katie Edwards

Lots of luck Jen - know you'll do brilliantly!

June 2019

$51.75

Yassi Djazaeri

June 2019

$51.75

Tim Knowland

Go for it Jen!

June 2019

$51.75

Emilie Ratz

Go Jen

June 2019

$30.00

Ara Iskanderian

June 2019

$30.00

Laura Smith

You are amazing!

June 2019

$30.00

Catherine Gibbons

June 2019

$51.75

Refinitiv

June 2019

$50.00

Katy Parsons

June 2019

Shmuel Bulka

June 2019

$100.00
Refinitiv MG for Jen Tyson

August 2019

$1,000.00

Jennifer Tyson

Bake sale

August 2019

$205.00

Pip and Martin Bridge

Go Jen !! Happy Birthday- happy running . We so proud of you.

July 2019

$100.00

Shmuel Bulka

June 2019

$100.00

Lesli Fairchild

August 2019

$77.62

Valerie Kirschmann

September 2019

$51.75

Sarah Percy

You are incredible! Go smash it, Jen! Love you! Sarah, James & Boys xxx

August 2019

$51.75

Emily Ayris

Good luck to my favourite! You're going to smash it! Xxxx

August 2019

$51.75

Brandon Meneguzzi

July 2019

$51.75

joanna morton

Good luck Jen!

July 2019

$51.75

Lex Garnham

June 2019

$51.75

Katie Edwards

Lots of luck Jen - know you'll do brilliantly!

June 2019

$51.75

Yassi Djazaeri

June 2019

$51.75

Tim Knowland

Go for it Jen!

June 2019

$51.75

Catherine Gibbons

June 2019

$51.75

Refinitiv

September 2019

$50.00

Tom Bridge

Hey, your running here! See you in the Windy City. Love Tom

August 2019

$50.00

Refinitiv

June 2019

$50.00

Eleanor Desveaux

The very best of luck Jen - you are superwoman!!! We look forward to hearing how it all goes. Mike and Ell xxx

October 2019

$40.00

Dino Papaevripides

Amazing. Well done Jen.

August 2019

$31.05

Matt Tyson

Love you always, Matt

October 2019

$30.00

Alice Sahba

Good luck, Jen! x

June 2019

$30.00

Emilie Ratz

Go Jen

June 2019

$30.00

Ara Iskanderian

June 2019

$30.00

Laura Smith

You are amazing!

June 2019

$30.00

Stephen Down

September 2019

$26.00

Carla OHanlon

September 2019

$25.87

Shil Patel

You are absolutely bananas for doing this (again!) - but what an incredible feat. Best of luck JenBen!

July 2019

$25.87

Christopher Mckee

Jen wishing you all the best from one fellow runner to another. Great and worthy cause. And best of luck with the hard yards and I'm sure you'll have some memories from this!

June 2019

$25.00

Anonymous

July 2019

$10.00