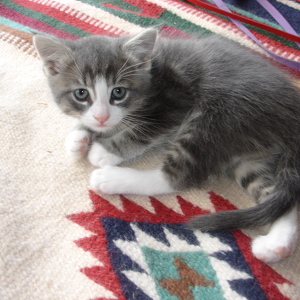 Vickie Smith
August 16, 2019 - September 14, 2019
My Personal Fundraising Page
Every animal deserves a chance or two or three at living his or her best life.  HSPPR is here to do just that, but they need our help supporting all the needy animals.
Please join me as I raise funds for Pawtoberfest.  Open your hearts and your wallets to save precious souls.
You'll be so glad you did..
Hugs,
Vickie
0
days
0
hours
0
mins
0
secs
My Supporters
Anonymous

September 2019

Garland Anneler

September 2019

$50.00

Vickie Smith

Given graciously by the Smith Cats..Jett, Mick and Diego

September 2019

$1,000.00

Buzz Walsh

September 2019

$100.00

Diane and Doug Kathol

With gratitude for thosel who help all the wonderful animals who need good homes.

September 2019

$1,000.00

Kendra Henry

September 2019

$50.00

Gary Loo

September 2019

$5,000.00

Vickie Smith

For those who need the most help...

August 2019

$1,000.00

Anonymous

August 2019

$50.00

Paul Hansen

Support the Humane Society and Vickie

August 2019

$100.00

Kim & Dick Walsh

Thanks Vickie for all your efforts!

August 2019

$500.00

Liz Bouis

Good Luck, Vickie!

August 2019

Frankie Tutt

You and I will always be caring for abandoned animals. Glad to help

August 2019

$250.00

Cynthia Goodchild Dick Janitell

August 2019

$500.00

Vickie Smith

August 2019

$1,000.00

Vickie Smith

For the animals of HSPPR!!!

August 2019

$1,000.00
Gary Loo

September 2019

$5,000.00

Vickie Smith

Given graciously by the Smith Cats..Jett, Mick and Diego

September 2019

$1,000.00

Diane and Doug Kathol

With gratitude for thosel who help all the wonderful animals who need good homes.

September 2019

$1,000.00

Vickie Smith

For those who need the most help...

August 2019

$1,000.00

Vickie Smith

August 2019

$1,000.00

Vickie Smith

For the animals of HSPPR!!!

August 2019

$1,000.00

Kim & Dick Walsh

Thanks Vickie for all your efforts!

August 2019

$500.00

Cynthia Goodchild Dick Janitell

August 2019

$500.00

Frankie Tutt

You and I will always be caring for abandoned animals. Glad to help

August 2019

$250.00

Buzz Walsh

September 2019

$100.00

Paul Hansen

Support the Humane Society and Vickie

August 2019

$100.00

Garland Anneler

September 2019

$50.00

Kendra Henry

September 2019

$50.00

Anonymous

August 2019

$50.00