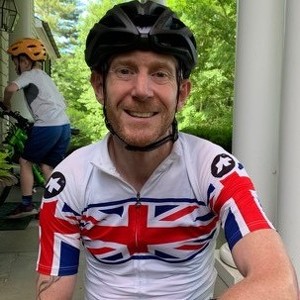 Ian Clark
My Personal Fundraising Page
As an avid cyclist I always like to challenge and push myself to the limit. To that end I'm heading to the French Alps, in the last week of August, to take part in what is considered by many to be the toughtest amateur stage race in the world.
The 7 day, 8 stage Haute Route is 7 consecutive days of climbing some of the Alps's biggest mountains, covering ~500 miles and climbing ~60,000 feet.
For more information click here - https://www.ridingupmountains.com/
I've decided to raise money for diabetes as its a disease that not only hits very close to home for me, but also impacts more than 370 million people worldwide.
This chronic condition has a profound impact on the lives of the people living with diabetes. It's a 24 hour 7 days a week job to manage the condition and to be sure that the sugar levels are within the required range, often requiring 4 - 6 injections per day. It takes both physical and psychological energy and commitment.
The goal of Team Type 1 is to ensure there is sustainable access to medicine and tools for all people with diabetes, allowing more people to live normal lives and enjoy many of the pleasures, such as riding a bike, that I take for granted.
Please help me support this worthwhile cause.
Many thanks
Ian
My Supporters
Anonymous

September 2019

William Cassidy

September 2019

$104.95

Briton Zamoyta

Ian- Best of Luck! Great Cause! -Briton

September 2019

$104.95

Paul Stocker

Some may question your sanity... huge congrats on completing....

September 2019

$104.95

Jonathan Booth

Cracking stuff Icky - you can now relax

September 2019

$100.00

Kellianne Levick

Inspiring to see the ride you are going on! Good luck.

August 2019

Matt Samuelowitz

August 2019

$209.90

Ambient Control ltd

Best of the Lynne / Anthony / James / Joseph / Faye Wootton

August 2019

$52.47

Tim Chapman

Good luck Ian. Try to enjoy the views

August 2019

$52.47

Brendan Maloney

Best of luck out there Ian!

August 2019

Kevin Carr

Dance on those pedals!

August 2019

$209.90

Jiong Zhou

August 2019

$52.47

matt oades

Good Luck Mate

August 2019

$52.47

Nathan Romano

August 2019

Brian Maggiacomo

August 2019

$262.37

Arup Das

August 2019

Jeff Saxe

Dominate on those mountains!

August 2019

$104.95

Anonymous

Great work Ian!

August 2019

Brian Wagner

August 2019

$104.95

Mark Devries

August 2019

$100.00

Liz and Kayvan Sadeghi

August 2019

$52.47

Jackie and Mike Weppner

August 2019

$314.85

Renee Watkins

Ian, Good luck in your cycling challenge to raise money for diabetes. I hope and pray that one day we will find a cure for the disease. Sincerely, Renee Watkins

August 2019

$52.47

Gotham Technology Group

August 2019

$500.00

Anonymous

August 2019

Brian Weigler

August 2019

Chris Aylard

Good luck!

August 2019

$100.00

Alison Fletcher

August 2019

$25.00

Gary Chui

August 2019

$52.47

Marvin Larry

August 2019

$52.47

steve shuhet

August 2019

$104.95

Abigail Horwitt

Good luck, Ian!

August 2019

$100.00

Margaret Fernandez

August 2019

$100.00

CRAIG MCDOWELL

August 2019

$50.00

eSentire

August 2019

$1,000.00

Alan Ratner

Best of luck Ian!

August 2019

$50.00

Agio

August 2019

Patrick Bulvanoski

Good luck with the race Ian! Great cause.

August 2019

$524.75

Bell Lap Coaching, Inc.

August 2019

Scott Wellington

August 2019

$262.37

Adam Walton

Amazing challenge, Ian, look forward to following the Strava story...half of me is envious and half of me is glad it's you clocking up all that climbing! All the best from the Waltons

August 2019

$209.90

Jared Lissauer

Enjoy the ride.

August 2019

$26.24

Paul Browning

Good luck Icky, smash it mate! Make sure you get back in one piece so we can go for that beer next month!

August 2019

$20.99

Adam DiPasquale

Ian, no surprise your in the deep end. Have at it! Stay safe! Can't wait to see your times and hear the stories.... All the best, A-

August 2019

$104.95

Helen Phillips

August 2019

$20.99

Chr Mixter

Ride well, Ian!

August 2019

$100.00

Nate Kemp

August 2019

$52.47

Ian Clark

August 2019

$1,000.00
eSentire

August 2019

$1,000.00

Ian Clark

August 2019

$1,000.00

Patrick Bulvanoski

Good luck with the race Ian! Great cause.

August 2019

$524.75

Gotham Technology Group

August 2019

$500.00

Jackie and Mike Weppner

August 2019

$314.85

Brian Maggiacomo

August 2019

$262.37

Scott Wellington

August 2019

$262.37

Matt Samuelowitz

August 2019

$209.90

Kevin Carr

Dance on those pedals!

August 2019

$209.90

Adam Walton

Amazing challenge, Ian, look forward to following the Strava story...half of me is envious and half of me is glad it's you clocking up all that climbing! All the best from the Waltons

August 2019

$209.90

William Cassidy

September 2019

$104.95

Briton Zamoyta

Ian- Best of Luck! Great Cause! -Briton

September 2019

$104.95

Paul Stocker

Some may question your sanity... huge congrats on completing....

September 2019

$104.95

Jeff Saxe

Dominate on those mountains!

August 2019

$104.95

Brian Wagner

August 2019

$104.95

steve shuhet

August 2019

$104.95

Adam DiPasquale

Ian, no surprise your in the deep end. Have at it! Stay safe! Can't wait to see your times and hear the stories.... All the best, A-

August 2019

$104.95

Jonathan Booth

Cracking stuff Icky - you can now relax

September 2019

$100.00

Mark Devries

August 2019

$100.00

Chris Aylard

Good luck!

August 2019

$100.00

Abigail Horwitt

Good luck, Ian!

August 2019

$100.00

Margaret Fernandez

August 2019

$100.00

Chr Mixter

Ride well, Ian!

August 2019

$100.00

Ambient Control ltd

Best of the Lynne / Anthony / James / Joseph / Faye Wootton

August 2019

$52.47

Tim Chapman

Good luck Ian. Try to enjoy the views

August 2019

$52.47

Jiong Zhou

August 2019

$52.47

matt oades

Good Luck Mate

August 2019

$52.47

Liz and Kayvan Sadeghi

August 2019

$52.47

Renee Watkins

Ian, Good luck in your cycling challenge to raise money for diabetes. I hope and pray that one day we will find a cure for the disease. Sincerely, Renee Watkins

August 2019

$52.47

Gary Chui

August 2019

$52.47

Marvin Larry

August 2019

$52.47

Nate Kemp

August 2019

$52.47

CRAIG MCDOWELL

August 2019

$50.00

Alan Ratner

Best of luck Ian!

August 2019

$50.00

Jared Lissauer

Enjoy the ride.

August 2019

$26.24

Alison Fletcher

August 2019

$25.00

Paul Browning

Good luck Icky, smash it mate! Make sure you get back in one piece so we can go for that beer next month!

August 2019

$20.99

Helen Phillips

August 2019

$20.99