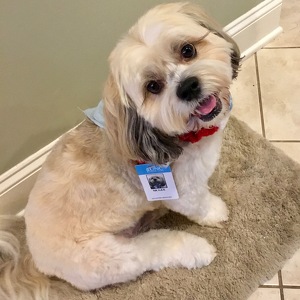 Jeannie Goguen
October 5, 2019
Hello my human friends!
Would you consider helping my furry friends at Paws4Ever to find their forever homes?  
Just click on the DONATE NOW button--and if you do it today, you can cross it off of your To-Do list.   Remember, no amount is too small--or too large. :-)
With lotsa love and sloppy kisses...
McGee
0
days
0
hours
0
mins
0
secs
My Supporters
Heather Goguen

October 2019

Elizabeth Palmerton

September 2019

$50.00

Shirley Sopko

September 2019

$50.00

Holly Booth

September 2019

$50.00

Linda Oldach

September 2019

$50.00

Terry Landers

September 2019

$50.00

Trista & Craig Goguen

September 2019

$100.00

Anonymous

September 2019

Anonymous

September 2019

Jayne Sahadi

September 2019

HELEN TUCKER

September 2019

$50.00

Celia Cawthon

September 2019

$20.00

Pat Gould

September 2019

$25.00

Brenda Stephans

September 2019

$20.00

Art & Suisei Goguen

September 2019

Judy Thompson

September 2019

Elizabeth Ripp

September 2019

Martha Petty

September 2019

Pat & Van Gould

September 2019

$26.50

Jo Ann Martin

September 2019

$25.00

Anonymous

September 2019

Annette Dymek

Hope this helps in finding a home for an animal that need a forever home.

September 2019

$25.00

Nick and Jessica Uhlir

September 2019

$53.00

Carol Spinney

September 2019

$53.00

Denise Tanguay

August 2019

$100.00

Anonymous

August 2019

Rene and Ann Goguen

August 2019

$26.50

Greg Walsh

August 2019

$53.00

Theresa Steele

Dedicated to McGee, Jeannie and the D-Man.

August 2019

$50.00

Mary and Gary Stringer

August 2019

Jeannie Goguen

August 2019

$100.00
Trista & Craig Goguen

September 2019

$100.00

Denise Tanguay

August 2019

$100.00

Jeannie Goguen

August 2019

$100.00

Nick and Jessica Uhlir

September 2019

$53.00

Carol Spinney

September 2019

$53.00

Greg Walsh

August 2019

$53.00

Elizabeth Palmerton

September 2019

$50.00

Shirley Sopko

September 2019

$50.00

Holly Booth

September 2019

$50.00

Linda Oldach

September 2019

$50.00

Terry Landers

September 2019

$50.00

HELEN TUCKER

September 2019

$50.00

Theresa Steele

Dedicated to McGee, Jeannie and the D-Man.

August 2019

$50.00

Pat & Van Gould

September 2019

$26.50

Rene and Ann Goguen

August 2019

$26.50

Pat Gould

September 2019

$25.00

Jo Ann Martin

September 2019

$25.00

Annette Dymek

Hope this helps in finding a home for an animal that need a forever home.

September 2019

$25.00

Celia Cawthon

September 2019

$20.00

Brenda Stephans

September 2019

$20.00