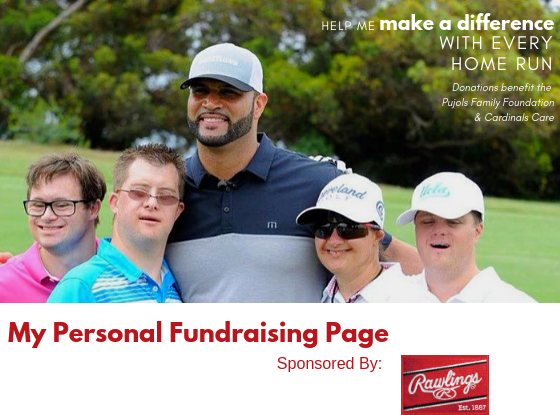 Update: Thank you so much for your support so far!  I qualified for the finals at Busch Stadium on November 9th, so I'm happy to keep the fundraising effort going to raise more than last year and max out the time I can get in the batter's box at Busch.
===========================================================
I'm once again supporting the Pujols Family Foundation and Cardinals Care by participating in their 2nd annual home run derby!
I was fortunate enough to qualify to hit at Busch Stadium last year and won my age group.  The experience was amazing for me and my friends and family who attended, so I wanted to support the cause again this year and attempt to go back to Busch to hit some more homers.
They were kind enough to carve out a 50+ age group this year to give us old guys a better chance to participate and win.
Please consider helping out these great organizations (and funding some extra time in the batter box for me on Sept. 21st and, hopefully, November 9th at Busch Stadium)!
Thanks so much!
Tim
My Supporters
Greg and Krista Saunders

Good luck Tim! Such a great cause!

November 2019

$100.00

Anonymous

A pleasure to help. Thanks Tim for what you do.

November 2019

Jason Kirkpatrick

We believe in you Piggy! Go gettem!

November 2019

$50.00

Pat and Angie Origliasso

Good Luck, Tim!

November 2019

$50.00

Amy Utterson

November 2019

Salon Lofts #16 hair by Stacey Vogel

November 2019

$100.00

The Wesolich family

November 2019

Anonymous

October 2019

$150.00

Tiffany Ilardi

Go get em!'

October 2019

$25.00

Vince Dwyer

Go get'm Tim!! Sorry Wyat and I won't be able to come cheer you on this year, our niece is getting married that day. Good Luck!!

October 2019

$100.00

Randy Robert

Good luck Tim!

September 2019

$50.00

Dan Harig

Good luck Timmy---Back to Back,Repeat!

September 2019

$40.00

Lisa and Gary Eisenbath

Best of Luck Tim!!!!

September 2019

$50.00

Steve Lewis

Good luck slugger!

September 2019

$50.00

Michael Hicks

Defend your title!

September 2019

$50.00

Michael Koffman

Good luck, will probably see you down there again!

September 2019

$50.00

steve Lorenz

September 2019

$50.00

Mastercard

September 2019

$50.00

Brian Sammelmann

September 2019

$50.00

Joel Pech

Good luck Tim! Great cause!

September 2019

$50.00

Tracy Porter

September 2019

Kelly Powers

Go get 'em Cuz, have a great round of homers

September 2019

$25.00

Kevin Rhoades

Great Cause!! Hope you've honed in on your Launch Angle!!

September 2019

$100.00

Rick and Debbie Robnett

Happy Hitting Tim !!!!!

September 2019

$25.00

David Kocs

September 2019

$50.00

Doug Williams

Good Luck Tim!!! Great cause - We hope you defend your title strong! Doug and Cheryl

September 2019

$50.00

Dan and Julie Weber

September 2019

$50.00

Kurt Emshousen

September 2019

$50.00

Anonymous

September 2019

Nicholas Riordan

September 2019

$25.00

Edward J. Saunders

September 2019

$100.00

CJK Realator

Good luck and thank you for supporting such a great cause!

September 2019

$50.00

Douglas Tieber

Good Luck Tim

September 2019

$100.00

Jim Wiehl

Hit 30! :)

September 2019

$100.00

Anonymous

September 2019

Anonymous

September 2019

Anonymous

Best of luck!

September 2019

$50.00

Rob Novak

Go Tim Saunders!!!

September 2019

$50.00

Mastercard

September 2019

$50.00

Thomas Vogt

September 2019

Tim Saunders

September 2019

$250.00
Tim Saunders

September 2019

$250.00

Anonymous

October 2019

$150.00

Greg and Krista Saunders

Good luck Tim! Such a great cause!

November 2019

$100.00

Salon Lofts #16 hair by Stacey Vogel

November 2019

$100.00

Vince Dwyer

Go get'm Tim!! Sorry Wyat and I won't be able to come cheer you on this year, our niece is getting married that day. Good Luck!!

October 2019

$100.00

Kevin Rhoades

Great Cause!! Hope you've honed in on your Launch Angle!!

September 2019

$100.00

Edward J. Saunders

September 2019

$100.00

Douglas Tieber

Good Luck Tim

September 2019

$100.00

Jim Wiehl

Hit 30! :)

September 2019

$100.00

Jason Kirkpatrick

We believe in you Piggy! Go gettem!

November 2019

$50.00

Pat and Angie Origliasso

Good Luck, Tim!

November 2019

$50.00

Randy Robert

Good luck Tim!

September 2019

$50.00

Lisa and Gary Eisenbath

Best of Luck Tim!!!!

September 2019

$50.00

Steve Lewis

Good luck slugger!

September 2019

$50.00

Michael Hicks

Defend your title!

September 2019

$50.00

Michael Koffman

Good luck, will probably see you down there again!

September 2019

$50.00

steve Lorenz

September 2019

$50.00

Mastercard

September 2019

$50.00

Brian Sammelmann

September 2019

$50.00

Joel Pech

Good luck Tim! Great cause!

September 2019

$50.00

David Kocs

September 2019

$50.00

Doug Williams

Good Luck Tim!!! Great cause - We hope you defend your title strong! Doug and Cheryl

September 2019

$50.00

Dan and Julie Weber

September 2019

$50.00

Kurt Emshousen

September 2019

$50.00

CJK Realator

Good luck and thank you for supporting such a great cause!

September 2019

$50.00

Anonymous

Best of luck!

September 2019

$50.00

Rob Novak

Go Tim Saunders!!!

September 2019

$50.00

Mastercard

September 2019

$50.00

Dan Harig

Good luck Timmy---Back to Back,Repeat!

September 2019

$40.00

Tiffany Ilardi

Go get em!'

October 2019

$25.00

Kelly Powers

Go get 'em Cuz, have a great round of homers

September 2019

$25.00

Rick and Debbie Robnett

Happy Hitting Tim !!!!!

September 2019

$25.00

Nicholas Riordan

September 2019

$25.00