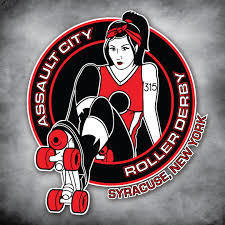 Assault City Roller Derby
Assault City Roller Derby's Fundraising Page!
Join your favorite local roller derby athletes on 8 wheels Sunday, July 14th for some fun in the sun!
Our team loves this event and all that Access CNY stands for so we truly appreciate any support you can provide, whether it be by making a donation to our team page or joining us the day of the event for some hugs, Zumba, ice cream and, our favorite, skating!
Thank you again for your support & we'll see you soon!
Visit our website for more information on ACRD!
Our next home bout is Saturday, August 10th at the SRC Arena, tickets are available at the link above!
Our Supporters
megan mills

July 2019

$15.00

Alise Gemmell

July 2019

$10.00

Andrea Bianchi

July 2019

Sarah Helton

July 2019

$10.00

Olivia Bosies

July 2019

$10.00
megan mills

July 2019

$15.00

Alise Gemmell

July 2019

$10.00

Sarah Helton

July 2019

$10.00

Olivia Bosies

July 2019

$10.00

Sara Berg

June 2019

$10.00