Dazzle Mad Hot Ballroom 2020 - Bal Masqué
Back by popular demand, Dazzle returns on April 4, 2020.
Join Us and Enjoy...
A "Dancing With The Stars" competition featuring 4 brave volunteers dancing for YOUR VOTES to win the coveted YA Disco Ball Trophy
A performance by children participating in a residency with a YA teaching artist. It's a highlight of the night and guests are amazed at what's possible when children get a chance to connect with their own creativity…magic!
A chance to win an NYC Getaway featuring tickets and a backstage experience for HAMILTON on Broadway
350 guests in masquerade enjoying dinner, drinks, dancing, dessert, and amazing arts entertainment!
"Dazzle is truly a feel-good event, and we hope that anyone who feels passionately about the arts and children will join us for a great evening. Not only will people have a terrific time, but they'll also leave knowing that they've helped to bring much-needed arts programming to children across the region."

~Michele Russo, President & CEO of Young Audiences
Dazzle Dancer Hall of Fame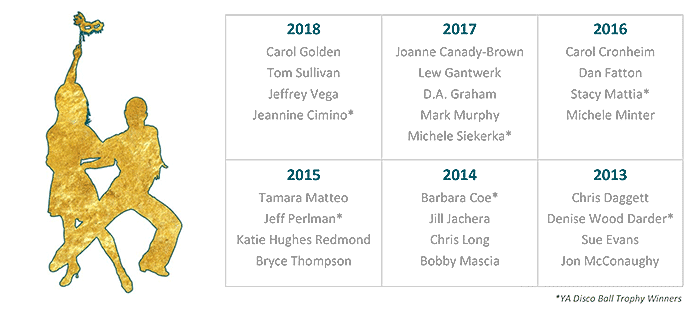 Dazzle Corporate Sponsors
About YA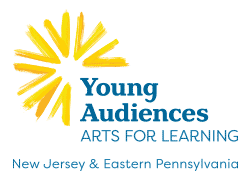 Young Audiences is committed to bringing the highest quality arts experiences by professional teaching artists directly to students. By doing so, we eliminate barriers to participation and make the arts accessible to students of every socioeconomic background, geographic area, and ability. All programming is designed to meet school-defined needs... READ MORE
Dazzle Gala Committee
Stacy Mattia, Chair
Barbara Coe
Jeannine Cimino
Cary Dawson
Liz Fillo
Janice Gross
Katie Hughes Redmond
Everett Kline
Ferris Olin
David Wald
Sharon White
Dazzle Supporters
Vonetta Hawkins

35 minutes ago

James Maher

50 minutes ago

$20.00

Terry Miele

Good luck!

3 hours ago

$262.50

Sarah Vander Schaaff

Finally, an election with total transparency.

4 hours ago

$100.00

Catherine Anderson

Get your groove on!

7 hours ago

$31.50

Katayun Jaffari

7 hours ago

$250.00
Joe Fruscione

4 weeks ago

$1,500.00

David Crane

2 weeks ago

$1,000.00

Anonymous

Best of luck Joe !!

5 days ago

$750.00

Marc & Sue Brahaney

3 weeks ago

$525.00

Jim and Mary Jo Hedden

Good luck, Joe!!!

3 weeks ago

$525.00

Jack, Maceo, Usha, Alex and Lucca Dehne

Good luck, Mommy!

3 weeks ago

$525.00