Behind the Mask - a Fundraiser for Trusted Mentors Leaderboard
3

Bookends Financial

$1,000.00

4

Katz Sapper & Miller

$1,000.00

5

Kristina Moorhead

$1,000.00
View Full Leaderboard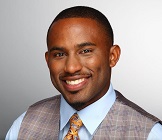 Randall Newsome of WISH-TV will emcee the event.
Behind the Mask, a fundraiser for Trusted Mentors
Behind the Mask it's not what you think! We are all now wearing masks to protect our health. But the Hoosiers we mentor wear "masks" everyday to hide the pain of homelessness, the difficulties of navigating adult life after foster care alone, or finding a place in the community after incarceration. Join us as we raise funds to train mentors who can help Hoosiers facing challenging life situations reach their goals, and successfully remain housed, out of prison and employed in our communities.
In lieu of our traditional gala, starting September 23rd, Trusted Mentor's Behind the Mask virtual gala will begin on Facebook Live with the help of four well-known local personalities hidden behind masks. Video clues will be posted on September 23rd, September 28th and October 1st at 7pm on Facebook Live to help you guess who is behind the mask. You can join the fun by purchasing a guess for $20. Guess correctly and you will be entered in the drawing for fabulous prizes! Our local celebrities will be revealed when the masks come off on Saturday, October 3rd at 8:00pm! Join us virtually on Facebook Live for a fun night where the masks come off!
While Behind the Mask is a fun event, the funds raised through this event are critical to continue training mentors to help Hoosiers in need of guidance and support as they work toward reaching their goals following foster care, homelessness or incarceration. Trusted Mentors is responding to a vital need in Indianapolis to help Hoosiers in poverty and at high risk of homelessness achieve stable housing and self-sufficiency. We are the only agency in Indiana to offer mentoring to at-risk adults. Over the past 5 years, when the mentoring relationship lasted 90 days, 95% of our mentees achieved stable housing and 90% of ex-offenders did not re-offend. 
Here are some other ways you can participate in our virtual gala and help us to continue to provide mentors for Hoosiers!
Join in the fun and become a fundraiser! Recruit your network to help Trusted Mentors reach its goals and continue helping Hoosier stay housed and out of prison. For every $500 you raise, you receive an extra hint, plus there will be prizes for the top 3 fundraisers.
Join us in-person for the Big Reveal of our local celebrities on Saturday, October 3rd at Chef JJ's! Buy your tickets early, only 32 are available!
You can also join virtually as well! Register as a non-fundraising participant to receive the link closer to October 3rd! And mark it on your calendar!