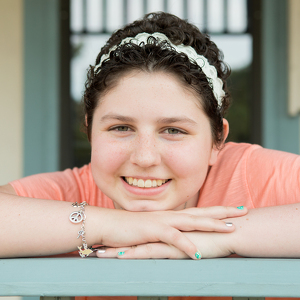 On a Mission to Make a Difference!
Our sweet Paige stepped into Heaven in October 2016 at the age of 16 after an almost 3-year battle against an aggressive form of childhood leukemia. Our girl faced challenge after challenge with strength, courage, and determination that continues to inspire so many. Paige had plans to become a pediatric oncology nurse to help kiddos just like her, so it's only fitting we carry on her legacy of wanting to help families walking through a childhood cancer diagnosis.
B.I.G. Love Cancer Care helps childhood cancer families every week of the year. From weekly shopping wish lists to toys and games for patients to assistance with urgent needs outside the hospital, B.I.G. Love works so very hard to make the days a little brighter for families in the fight of their lives--whose children are fighting for their lives. 
The uncertainty brought on by COVID has us going virtual this year--so you can run, walk, or crawl ANY distance you want as you are make a difference in the lives of childhood cancer families across the state of Texas. 
CW

Cheryl Westmoreland

$35.00

MC

Mary Callaway-Melinder

$35.00

DF

Debbie Farquhar

$35.00

JH

Julie Hayes

$35.00

LA

Leigh Ann Moore

$35.00

DW

Denise Walker

$35.00

SH

Savannah Hillis

$35.00

DS

Destinee Sloan

$35.00

AC

Andrea Clark

$35.00

MA

Mandy Addicks

$35.00

AM

Ashley Makara

$35.00

MI

Michelle Ikerd

$35.00

CS

Cassie Smith

$35.00

DR

Danielle Ruthstrom

$35.00

JM

Julie McCarty

$35.00

FH

Faith Halderman

$35.00

MR

Mike Raymond

$35.00

EK

Erin Kopchak

$35.00

LA

Lea Ann Boswell

$35.00

MH

Marisa Hodges

$35.00

AA

Amy Amend

$35.00

LD

Latasha Davis

$35.00

HL

Heidi Lovercamp

$35.00

RB

Robyn Bosch

$35.00

MW

Melissa Watson

$35.00

KG

Kelly Grones

$35.00

SS

Sylvia Steiger

$35.00

KP

Kaitlyn Peterson

$35.00

KO

Keri Oujesky

$35.00

AC

Amy Carson

$35.00

SS

Shelly Scott

$35.00

LD

Lisa Decker

$35.00

KC

Karen Cousins

$35.00

DA

Derrick Abney

$35.00

HA

Holly Abney

$35.00

AP

Andrew Peterson

$35.00

LL

Leslie Lapouble

$35.00

JR

Jamie Roberts

$35.00

SV

Shelley Van Deursen

$35.00

LN

Lauren Nicholls

$35.00

AB

Angela Bondzinski

$35.00

JC

Jeannie Colbert

$35.00

RC

Robb Colbert

$35.00

SG

Sara Gonzales

$35.00

MM

Monica Munoz

$35.00

JB

Julie Berg

$35.00

EB

Ed Berg

$35.00

JW

Jillian Wilke

$35.00

LS

Leslie Swirsky

$35.00

BG

Beverlea Gerhart-Semmes

$35.00

DS

Donna Shillinglaw

$35.00

AS

Amie Sykes

$35.00

JF

Joy Farmer

$30.00

JA

Jim Abney

$30.00

DA

Debbie Abney

$30.00

AA

Aidan Abney

$30.00

EH

Elaine Hendrix

$30.00

JJ

Julie Juneau

$30.00

JS

Jennifer Scott

$30.00

BL

Boyce Lejeune

$30.00

JL

Jeremy Lejeune

$30.00

JH

Jean Hofschulte

$30.00

RF

Rebekah Farmer

$30.00

MS

Maleah Sykes

$25.00

CS

Charlotte Sloan

$25.00

DG

Dean Gonzales

$25.00
0
days
0
hours
0
mins
0
secs
Our Supporters
Leanne Williams

Last month

$36.05

Melone Zak

Last month

$36.05

Destinee Sloan

Last month

$1,339.00

Lisa Decker

Last month

$25.00

Stephanie Carroll

We will always be Team Paige

Last month

$103.00
Destinee Sloan

Last month

$1,339.00

New Hope Church

November 2020

$1,030.00

Anonymous

Last month

$1,000.00

Wendy Struss Willet

November 2020

$500.00

Stephanie Carroll

We will always be Team Paige

Last month

$103.00