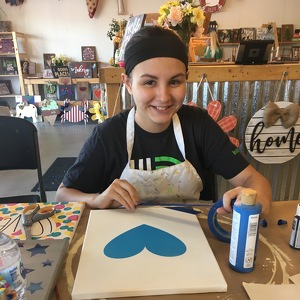 Nichole Turgeon
My Personal Fundraising Page
This is my Little Sister McKenzey. She is amazing! This past year and a half has been tough for everyone, especially kids. But, McKenzey is resilient and she has her mom, me, and BBBS to help her stay on track. 
McKenzey is creative and funny, a true joy to be around! She helps me to be present and really be in the moment, not my strong suit.
Even though I have almost 16 years of experience working at Big Brothers Big Sisters, I rely on my Match Support Specialist to help coach and guide me so I can be the best possible mentor and friend to McKenzey. That is why I am asking you to help me raise funds for Bright Futures. I know the professional support of caring BBBS staff is critical to mentoring friendships and empowering the potential of youth.
I am on a mission to help Big Brothers Big Sisters reach their fundraising goal of $130,000. This organization has been impacting our community for over 60 years! They work to match youth (Littles) with adult mentors (Bigs) who help them achieve their full potential and guide them toward their biggest possible futures. 
Can you help me reach my personal fundraising goal with a donation today?!? 
Stand with me as a Defender of Potential! All of the money raised stays local to create more life-changing relationships.
My Supporters
Union Pacific

September 2021

$500.00

Jessica Krecklow

September 2021

$500.00

Kathleen Kennedy

August 2021

$106.00

Nancy and Jim Thompson

August 2021

Jennifer Patten Benson

August 2021

Anonymous

August 2021

Corey Langford

August 2021

$530.00

Nichole Turgeon

July 2021

$100.00
Corey Langford

August 2021

$530.00

Union Pacific

September 2021

$500.00

Jessica Krecklow

September 2021

$500.00

Kathleen Kennedy

August 2021

$106.00

Nichole Turgeon

July 2021

$100.00