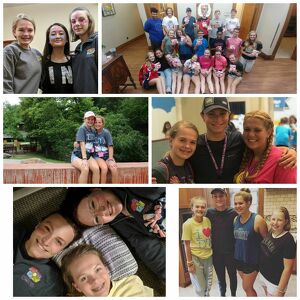 Genevieve Pietruszynski
August 19, 2019 - August 31, 2020
Genevieve's Campership Challenge
Help me help make camp happen!
Hi, I am Genevieve Pietruszynski and I am 16! Right now I am a high school student in several activities. These include dance team, dance studio, showchoir, cheer, and mock trial. I love being able to do what I love while being surrounded by so many amazing people. However, my favorite thing in the whole world is camp. Every year I count down day after day until the one where I get to go to the happiest place on Earth. The best feeling in the whole world is pulling up and driving under the Ycamp sign. The excitement that flows through me as I drop off my bags and check-in. Finding out what cabin I am in and literally running to get a top bunk with my sister. It is truly the best feeling in the world. As I step into the cabin I will be sleeping in for the next week my eyes water as I see my friends. I feel pure happiness and joy. It is so refreshing feeling so happy after a long school year. Camp makes me feel right at home. I can't describe the feeling but it's like pure happiness mixed with adrenaline mixed with love and hope. But like campy feeling. 
One of my favorite things about camp is singing the songs. Especially in the morning. I love getting all hype with my friends while all the other teenagers are still half asleep. Eventually, the songs slowly wake them up and when the energy lifts just a little in the brisk morning air it's as if you can hear the sunrise. Then we get to walk through a tunnel of Ycamp staff and they give us all high fives. And I love it. I don't know why but it's such a great part of my morning. It gets me ready for an amazing day. It is the little things that stand out to me as being the best parts. 
After we get to the dining hall it's just great. Eating with my best friends is just automatically better. I love listening to classic camp songs, being the 'hopper' or the person who gets the food, gossiping, or having water chugging competitions. Scream singing at any meal of the day is so fun and you should definitely try it sometime. Waiting for the salad bar is one hundred times better singing with others standing in line. Everybody is so nice at meals. I love being with all the other cabins enjoying the delicious food. And of course, there is always the golden dustpan award to the cleanest cabin. I, of course, am still waiting for my moment in the sun on that one. After lunch, most cabins go up and have nap time. While I and my cabin mates hit the ceiling with a broom. Well to be fair. The boys upstairs would "fall" off their bunks causing our ceiling to shake so the broom was really our only line of defense. 
Besides eating and singing, we do a lot. Like for example arts and crafts. A personal favorite of mine. I could sit in there all day laughing and talking with my friends while making endless friendship bracelets and other crafts. Sitting in a circle around a speaker blasting music while working with string and beads is so peaceful and just makes me smile. I also love watching, whoever is playing nine square through the mesh windows. Being surrounded by so many happy faces is amazing. Sometimes by the end of the week, we run out of supplies so we began using whatever materials are left. The bracelets become a mishmash of random colors and beads but they still are super fun to make. 
Being at the Ycamp we are able to do many different things. One of my favorites is zip lining. I love climbing up as fast as I can and then flying down feeling the breeze whip around me. But there is a moment when you are stuck on a little tiny platform looking down at all your friends, nervous and excited, it's kinda terrifying standing up there not being able to move. But then you slowly lower yourself to the edge and when you push off and your stomach drops. Then you fly. I love that feeling. Moving on to my least favorite. Rock wall climbing. Before last year. I had never ever made it to the top. In my 10 years of going to camp, I had never made it to the top of the rock wall. My usual routine was climbing up four feet, cry, get down, and then laugh with my friends about my rock wall skills. But last year was different. I had made it past the four feet and I wanted to come down but my friends were cheering me on. I pushed forward climbing up and up and up and finally, there were no more rocks to grab. I looked up to see my counselors and friends standing at the top. I was so happy. It was an amazing feeling to know that I reached the top. I actually did it twice! I was so happy. I also love going horseback riding, however, the trials have been rained out the past couple years. 
Last year was an amazing year at camp. Three great memories I had were; when my friends and I went on a hike, when I swam in the rain, and when my cabin totally destroyed the boy's cabin in an epic tp. Basically we got a bunch of tiny mouthwash cups filled with water and put them all over their floor so they couldn't get in. It was awesome. It took forever but it was totally worth it 100%. One of the other memories was my friend Mia Vaske, my counselor Christy, and I went swimming in the rain. We were the only ones in the pool and it was so much fun. We went down the slides even though it was freezing when we got out of warm water. But it was so fun just messing around in the rain. Finally, on Thursday of the camp 2019 two of my friends, my counselor, and I went on a hike to find the honor cabin. Which was a cabin where good kids got to stay in at the end of the week, back when the camp was an all-boys camp. All we found was the wrecked building, as the creek had flooded it out several years back. But walking through the creak climbing over rocks, laughing and talking it was such a wonderful adventure. Walking through the woods was so peaceful and I was so glad to be with them. After we got back we went to archery. We got to shoot pieces of paper with the Bebe guns they had. I was really bad. So my friend shot my paper for me, just don't tell anyone, and of course, my two friends did really well. My little adventure was such a great experience and although I never got to see the honor cabin I was happy. 
Of course, I have to talk about the dance!! Okay so on Thursday night the whole camp gets together and we get to party. My friends and I all get ready together and we dance the night away! I love listening to all the camp classics. I love it when they do the Greece Lighting thing where all the boys are on one side and all the girls are on another. It's really fun. Another thing I love is there is a point where a couple of the guy counselors pretend like someone went down on the dance floor and we all circle around. Then we cheer as he gets up and all run into the center. It is awesome. I could go on and on about different traditions! Then at the end of the night they play Don't Stop Believing and everything I cry because it's the indication that camp is coming to an end which makes me sad but also I am crying because I am so happy to be surrounded by such amazing people. After that DJ Cubbie plays maybe two more songs and then always plays Go Cubs Go! It is always a great night. 
I could talk forever about all my favorite memories and how much each little thing makes my heart sing. I love camp. When I go to camp I am surrounded by people who I know are my best friends. I know I can always count on them. Cancer has impacted us all differently but when we are together we are able to talk about it. Being able to talk about our stories with each other is very calming. Sharing similar experiences that are hard to share with kids at school creates a bond that will last a lifetime. At camp, nobody judges you and you are free to be who you are. I know that those people will always be there for me and I can always be myself. It can be hard in a world that is always telling why you are wrong to express yourself and be you. But Camp Heart Connection has given me a place where I can be myself without judgment. I love being able to sing as loud as I want and dance crazily and nobody cares. I can talk about how I feel and what I am struggling with and I receive nothing but love and support back. The staff are always there for me and have the biggest hearts. I am so grateful for all the amazing counselors that have inspired me and been there to support me. Camp has also given my sister a chance to grow as a person. I saw such a great change in her when she first went to camp. I am so happy that she has met her life long friends and was able to express herself at camp as well. 
Children's Cancer Connection is a huge part of my life and I love going to every activity I can. Here is the blog post I wrote about the activities they have year-round: 
There are so many opportunities for us teens to get together, but let me back up for a second and tell you about my other teenage friends. My greatest friends are those that I have met through Children's Cancer Connection and through camp. I have grown up with these people, they have helped me through some difficult times and have been part of some of my happiest memories! So it breaks my heart to only be able to see them once a year. Even though I live close to many of my good friends, it's hard to find a time and place for us to get together. This is where Children's Cancer Connection comes in. This organization gives us amazing opportunities such as lock-ins and hangouts so that we get chances to see each other. Hangouts are a great way to catch up with each other. The hangouts happen about once a month, and it is so fun to be able to be with each other and catch up each month. In the words of my fellow teen Will Krueger, "they are like mini lock-ins...I'm happy to see my friends from camp." Which leads me to my favorite teen event! Lock-ins are probably one of the best teen activities!! They are as close as you can get to a night at camp. One thing is that all teens can participate which allows us, teens, to meet and create bonds. What does a typical night look like? Well first, everyone arrives. We set our stuff down, including our pillows and blankets (which we brought for sleep that would not occur). Then chaos erupts and teens are everywhere spread throughout Hansen Home for Hope! There are always video game battles all through the night! My personal favorite is Mario Kart. And of course, there are movies playing in several different places. Some rooms are filled with daring souls watching a horror film or if you are more into way less scary things, a romantic comedy will be playing in the room I am in. And for everyone's enjoyment tons of snacks and pizza is always in supply! There is at least one group activity so that we can meet new people!
I am so happy I started going to lock-ins because I met one of my best friends at my first one! Of course, I also got to see one of my oldest and closest friends, we actually planned to go together our first time. Now I can't wait to see them both at everyone. Moving forward in the night, once the clock hits 12:00 am you can start to feel the pull of sleep after partying hard for five hours! But it is an unspoken rule that at a lock-in you have to try your hardest to never fall asleep! Sadly there are many who curl up on a couch, with a sleeping bag, or in a tiny hallway. But before that point, there is a lot of caffeine, singing, and many many laughs! We also must catch each other up so we have our "tea" seasons. Now "tea" is like drama or like things that have happened that we have to inform each other of. So I like to sit in a circle with all of my friends while we spill the tea, so to speak. We have such good times just talking about everything that has been keeping us busy for the past couple months. Another fun part of the night is making tik toks at 1:00 am or singing karaoke. I personally enjoy using the elevator for an intense game of hide and seek throughout the house. I love laughing with my friends and getting amazing advice from my favorite counselors.
Being able to see these people throughout the year makes me so happy. It gives me a chance to, in the words of one of my friends Lindy Krammer, "see old friends" while also meeting new ones. It gives me more opportunities to have fun with some amazing people and further relationships with people I would usually only get to see once a year. I love having the lock-ins to look forward to, they are truly so much fun. Children's Cancer Connection has given me such amazing teen events to go to and each is filled with such joyous, humorous, and sentimental moments that I use to get me through the year, until camp, of course.
Camp Heart Connection and Children's Cancer Connection have given me a home and a place to go to lay my worries down and just be a kid. It has given me the opportunity to express myself and grow as a leader. I am who I am today because of this camp. My love camp with all my heart I want to be able to make it possible for everybody to go. Camp Heart Connection is free of charge for families as cancer treatments are extremely expensive and Children's Cancer Connection wants to give every kid this opportunity. I want every kid to be able to go to camp. Please help me support Camp Heart Connection by helping me raise enough money to support my full cabin! Thank you so much for supporting me by donating and helping me meet my goal! This camp and organization have done so much for my family and me, and I love being able to give back! If you would consider donating it would mean so much to me! Thanks again! 
-Love, Genevieve
0
days
0
hours
0
mins
0
secs
My Supporters
Karla Vogel

April 2020

Butch & Wanda Duske

Awesome granddaughter! Awesome grandparents! An inspiration to us!❤️

March 2020

$200.00

Roger and Laura Jacobsen

In honor of Genevieve P.

March 2020

$400.00

Mary Alice Hill

March 2020

$50.00

Hugh & Lynn Denbow

You and your grandparents are such a blessing for so many. Genevieve, what a beautiful heart you have!

March 2020

$100.00
Joe & Theresa Pietruszynski

Thank you for all you do for these kids. Genevieve has grown to be a beautiful young lady so full of hope and dreams.

February 2020

$1,000.00

Roger and Laura Jacobsen

In honor of Genevieve P.

March 2020

$400.00

Carol Gilbert

As a friend of Susan and Jeff Stroud, I would like to donate $250.00 so their granddaughter, Genevieve, will be a Camp Counselor.

February 2020

$250.00

Butch & Wanda Duske

Awesome granddaughter! Awesome grandparents! An inspiration to us!❤️

March 2020

$200.00

Hugh & Lynn Denbow

You and your grandparents are such a blessing for so many. Genevieve, what a beautiful heart you have!

March 2020

$100.00