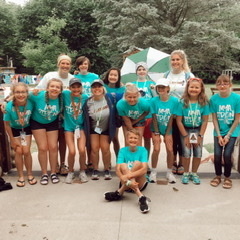 Dakota Neblock
August 19, 2019 - August 31, 2020
Dakota's Fundraising Page
Why you should donate:
My name is Dakota Neblock and I am currently 14 years old and am about 6 years off treatment! When I was 4 months old I was diagnosed with Neuroblastoma, an aggressive solid tumor cancer. I relapsed twice before I was 3 years old, and treatment options became limited. I did a lot of chemotherapy, radiation treatments, and clinical trials for almost 7 years straight before I was finally able to stop all treatments in 2014. Children's Cancer Connection was introduced to my family while I was still in treatment at University of Iowa Hospitals and Clinics and it has been an important part of our lives every since!
Every year since 1988 Children's Cancer Connection has been dedicated to providing a week long residential camp for children diagnosed with cancer living or treated in the state of Iowa and also providing an identical week of camp for siblings of children diagnosed! I truly believe this camp is one of the best experiences any kid with cancer or sibiling gets to have because it gives them oppertunities to connect with others that may have gone through similar things as them and gives them a chance to build friendships that will last a lifetime!
My very first year of camp was when I was 5 years old. Before then I had always refused to stay anywhere without my parents but as soon as I walked into my cabin, my eyes lit up and my parents could tell this would be different. That year I made many new best friends that am still very close with today. All of the peope I have met at camp know exactly what I was going through because they were or are going through it as well! At camp, everyone is treated like we are all apart of one big family and having scars or other differences doesn't matter.
Besides the many people you get connected with at camp, Children's Cancer Connection also provides many amazing activities for the campers! All campers get a t-shirt, waterbottle, and some sort of name pin upon arrival when they reach their cabin and as a farewell to families for the week, they get to hang out at the carnival playing games, winning tickets and prizes! Every year there are also dress up days related to the theme of camp that year, and activities all throughout the week that revolve around that theme. At camp we also get to rock climb, tie-dye, swim, zip line, do arts and crafts, horseback ride, have camp fires, see fireworks, sing some amazing camp songs, and so much more fun things!
Every year for the last 10 years, I count down the days until this week in June because it is truly the best week of the year for me. And every year I have made many new friends and memories at Camp Heart Connection and I can't wait to make more! 
Camp is absolutley free for families and by donating, you help send kids to camp so that they can experience all of these things too. 
Thank you so much for reading,
Dakota :)
Link to share my fundraising page:
https://secure.qgiv.com/event/account/971862/
Link to event home page: 
https://secure.qgiv.com/event/cc2020/
Follow up message: 
Thank you all for helping me raise and pass my original goal of $200 in just a few short hours! I now have raised $400, enough to send 1 kid to camp! Please help me reach my new goal of $1,200 to send three kids to camp! 
- Dakota Neblock
0
days
0
hours
0
mins
0
secs
My Supporters
Jackie Lewis

You are amazing, Dakota Neblock!

May 2020

$55.00

Stephanie Horn

Love you, Dakota!

May 2020

Jeff and Brenda Horn

March 2020

$30.00

Diane McCarthy

March 2020

$30.00

Jennifer Murphy

March 2020

$30.00
Gary & Joan Cotton

March 2020

$100.00

Jackie Lewis

You are amazing, Dakota Neblock!

May 2020

$55.00

Christine Foster

March 2020

$55.00

Jeff and Brenda Horn

March 2020

$30.00

Diane McCarthy

March 2020

$30.00