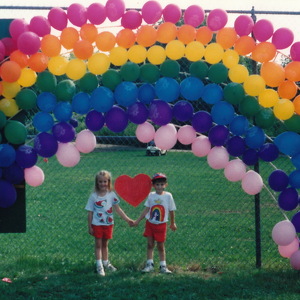 Ryan Enabnit
August 19, 2019 - August 31, 2020
Ryan's fundraiser for Children's Cancer Connection
Help us make camp happen!
Being a childhood cancer survivor, the Childrens' Cancer Connection has been very important to my siblings and myself. We attended the camps every summer. For a combined total of 18 years, the week long camps were the highlight of our year, where we created life long memories. We made many friends who understood what we were going through, because they were on the same journey. Even though we lived miles apart, the camp united us all. Each year we reconnected with old friends, we made new friends, and sometimes we lost friends. Children's Cancer Connection gave us hope, inspiration, acceptance and a reason to fight cancer.
Since 1988 one of Children's Cancer Connection biggest programs has been Camp Heart Connection. CCC has been dedicated to providing camps for Iowa children affected by childhood cancer. They also provide an identical week of camp for siblings of children diagnosed. At Children's Cancer Connection we believe in serving the entire family through the entire journey! Day Camp and Family camp are also available throughout the year for families to connect and create lifelong memories.
Cancer can be a strain to financials for many families. At CCC, they are dedicated to making sure everyone can experience camp. No one is ever charged any amount to come to camp and they work year round to make sure every camper can have a magical experience! When you donate through Campership Challenge, you are helping ensure every camper can experience camp!
0
days
0
hours
0
mins
0
secs
My Supporters
Shelley Lawson

June 2020

$55.00

Libby Towers

June 2020

Colter and Allison Kinney

June 2020

Anonymous

June 2020

Stephanie Ward Hellickson

June 2020

$55.00
Eric Jacie Emery Leighton Enabnit

Your strength is unmatchable! Watching you conquer your goals throughout life has been an incredible inspiration to our family and community! Go Ryan!

June 2020

$100.00

Garrett, Kael, Max Renze

June 2020

$100.00

Erin Renze

June 2020

$100.00

Ann Gemberling

June 2020

$100.00

Rhonda Sommerfeld

June 2020

$100.00