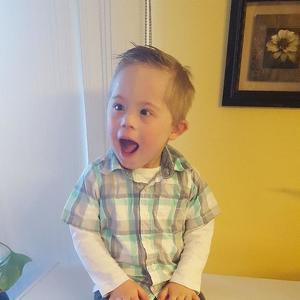 Braxton's Team Fundraising Page
Braxton would like to thank you for checking out our fundraising page and hope you can not only donate but be able to join our team on September 29th! We have participated in many of the events DSAW has provided and are very humbled to be part of the First Annual Down Syndrome Awareness Walk!
People with Down syndrome are more ALIKE the rest of us than they are different. They have feelings, talents and dreams just like everyone. They deserve to be accepted and appreciated for who they are and what they contribute to our lives and our communities.
Donating through this website is simple, fast and totally secure. It is also the most efficient way to support our fundraising efforts. You can make your tax-deductible donation online, or if you would prefer, you can send your contribution to the DSAW Office: 11709 W Cleveland Ave, Suite 2, West Allis, WI 53227 (Just be sure to write Central Wisconsin and our team name on the memo line so that we get credit for the donation!) Whatever you can give will help - it all adds up! To sponsor us simply press Donate Now.
Please also join us on Saturday, September 29th, at Doepke Park in Wausau as part of our team. It's an incredible day of celebration with family, friends, and people who, like you, want to raise awareness, raise funds, and raise the hope of a better world for all people with Down syndrome. With your support and involvement, our goals of acceptance, inclusion and empowerment will become a reality!
To join our team, click Join My Team.
Many thanks for your support, and PLEASE don't forget to forward this to your entire address book and anyone else who you think might want to donate and register to walk as part of our team.
Braxton and Team Balboa!
Jenna Reil

$10.00

Kris Schirmacher

$10.00

Irie Schirmacher

$10.00

Hailey Reil

$10.00

Ethan Rowan

$10.00

Brianna Rekowski

$10.00

Mollie Peters

$10.00

Jaci McKamey

$10.00

Milo McKamey

$10.00

Brian Schade

$10.00

Taylor Swanson

$10.00

Kenneth Lang

$10.00

Jayne Rekowski

$10.00

Susie Erdman

$10.00

Helena Erdman

$10.00

Rayna Warrick

$10.00

Amber Cossette

$10.00

Pam Tessmer

$10.00

Amy Kissinger Gothard

$10.00

Martha Hoffman

$10.00

Bob Wilcox

$10.00

Patrick Bacher

$10.00

Lucas Klade

$10.00

Theresa Smukowski

$10.00

Shelby Smukowski

$10.00

Carl Lang

$10.00

Erica Erdman

$10.00

Diane Lang

$10.00

Kathleen Lang

$10.00

Brad Casselberry

$10.00

Keisha Bell

$10.00

Michelle McCarthy

$10.00

Barbara Donath

$10.00

Dan Donath

$10.00

Evelyn Olson

$10.00

Tori Smith

$10.00

Jennifer Rusch

Jane Erdman
0
days
0
hours
0
mins
0
secs
Our Supporters
Allan Heil

I will not be able to attend the walk, but go team Braxton!!

September 2018

$25.00

Keisha Bell

September 2018

$5.00

Evelyn Olson

September 2018

$20.00

Anonymous

September 2018

Rosemary Strahm

Can't make the walk but i' ll walk around the pond and keep all in my thoughts Go Team Braxton.

September 2018

$52.50

Sandy Magnuson

Donation for BRAXTONS TEAM Balboa

September 2018

$26.25

Jennifer Rusch

September 2018

$75.00

Bob Wilcox

September 2018

$10.00

Taylor Swanson

September 2018

$10.00

Anonymous

September 2018

Anonymous

September 2018

Patrick Bacher

August 2018

$40.00

Michelle McCarthy

August 2018

$15.00

Jane Erdman

August 2018

$31.50

Kris Schirmacher

August 2018

$10.00

Irie Schirmacher

August 2018

$10.00

Amy Ives

July 2018

$10.00

Rachel Mihalek

We love you, Braxton!

June 2018

$26.25

Hannah Schreiner

June 2018

$10.50
Jennifer Rusch

September 2018

$75.00

Rosemary Strahm

Can't make the walk but i' ll walk around the pond and keep all in my thoughts Go Team Braxton.

September 2018

$52.50

Patrick Bacher

August 2018

$40.00

Jane Erdman

August 2018

$31.50

Sandy Magnuson

Donation for BRAXTONS TEAM Balboa

September 2018

$26.25

Rachel Mihalek

We love you, Braxton!

June 2018

$26.25

Allan Heil

I will not be able to attend the walk, but go team Braxton!!

September 2018

$25.00

Evelyn Olson

September 2018

$20.00

Michelle McCarthy

August 2018

$15.00

Hannah Schreiner

June 2018

$10.50

Bob Wilcox

September 2018

$10.00

Taylor Swanson

September 2018

$10.00

Kris Schirmacher

August 2018

$10.00

Irie Schirmacher

August 2018

$10.00

Amy Ives

July 2018

$10.00

Keisha Bell

September 2018

$5.00