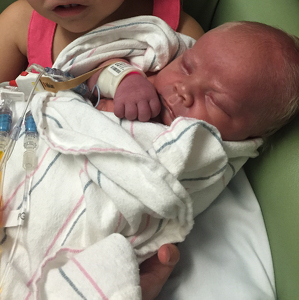 Team Mia
Our team fundraising page
In June 2015, we welcomed the birth of our 2nd daughter, Mia Grace. It was an exciting, yet terrifying time. We learned at our 20 week ultrasound that our child had a very complex heart defect called Hypoplastic Left Heart Syndrome. It was here that our journey with the Children's MN Cardiovascular unit began. Through countless doctor visits, echocardiograms, tours of the unit, and even a meeting with the surgeon that would be operating on our child, we were as prepared for her birth as we would ever be. 
Our little Angel fought for nearly 2 months. If it hadn't been for the CVCC, we wouldn't have been blessed with a day with her. Though our story doesn't end a happy one, we are forever grateful for the CVCC team. Through the countless ups and downs, open heart surgery, numerous trips to the OR, and every day love and care, Mia's team was there every step of the way. As a mother, I will never forget the hugs I received from her nurses and Doctors. I will never forget the amazing people who I spent countless hours with during those 50+ days. I will never be able to thank the nursing team enough that helped us make Mia's baptism memorable, or the group of nurses who asked to be with us for Mia's last day.
This is our 5th year as Team Mia raising money for the cardiovascular unit. This is the 5th year our friends and family have come together to honor our baby Mia in a special way. This event has given us the opportunity to give back, though slightly, all that Children's MN did for our Mia.
 
Ava Kading

Beatrice Moeller

Cameron Kading

Harvey Moeller

Julianna Petersen

Cody Zachman

Lincoln Zachman

Samuel Zachman

Logan Rimer

Reagan Rimer

Laila Olson

Lacey Olson

Liam Aldridge

Scott Aldridge

Bryce Aldridge

Eli Aldridge

Carter Aldridge

Logan Turnbull

Malena Turnbull

Lillian Aldridge
Our Supporters
Roxann Zachman

May 2020

$100.00

Tony Stangl

In loving memory of Mia. Always in our hearts! Love, Mary and Tony.

May 2020

Breezy Moeller

May 2020

Beatrice Moeller

May 2020

Harvey Moeller

May 2020
Shirt fundraiser

April 2020

$681.41

Eagles Club 3208

May 2020

$375.00

Marilyn Aldridge

May 2020

$300.00

Eagles Club 3208

May 2020

$250.00

Scott Aldridge

Love our Mia! - Uncle Scott, Aunt Teri, Liam and Bryce

April 2020

$200.00