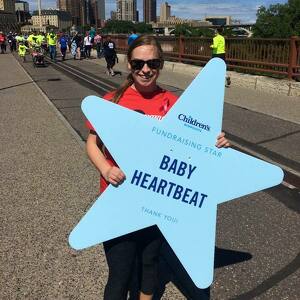 Baby Heartbeat
It is that time again, but it sure feels different this year! There is a lot going on around us and around the world and it seems that every day presents a new obstacle.
For the Walk for Amazing, that means how to fundraise and gather during a time when gathering is just not possible. 
So we're going virtual this year! Even during a pandemic, many are facing challenges every day at Children's. Kids, parents, families and medical staff alike. The best way we can show support is to continue to fundraise for this special organization. 
For those that may be new to my fundraising efforts, I was diagnosed with a congenital heart defect in 1987. At 5 months old I had open heart surgery to repair it and remained a patient at Children's until 2010.
I believe that it is because of the wonderful staff and the care I received while at Children's that this part of my story is so short. Our support means they can continue to do amazing things for many others, not only today, but for years to come!
-- Team Baby Heartbeat Captain, Sara Hanzlik
Our Supporters
Brianna Hughes

June 2020

Dana Fritz

SO proud of you, Sara!

June 2020

$100.00

Sarah Hamer

May 2020

Anonymous

May 2020

$25.00

Julia Ryan

May 2020

$50.00
Anonymous

Proud of your decision to continue to fundraise! Keep up the great work for all those little kiddos.

May 2020

$1,000.00

Bill Hanzlik

We are all proud of you Sara. You are making a difference!

May 2020

$500.00

Joe King

Praying for hearts to be mended so the ripple effect will be enriching lives daily.!

May 2020

$500.00

Gaylen Harms

Keep up the awesome work Sara! You are truly making a difference.

May 2020

$500.00

RICHARD HANZLIK

May 2020

$250.00