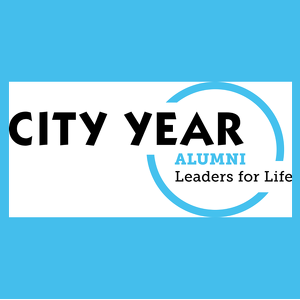 MYYYYY boots, my shoes, my ps are pressed, my shirt tucked in, my Spirit….
Is felt, my belt, my name, my tag and I rock my CIty Year Swag, HUH!
Welcome Back, September 21, 2013. We just ran into that huge white tent at the Hennigan, wearing our fresh khakis, timbs and New Red Jackets in 95 degree heat (not for the last time). We take the pledge and set off on our year of service. Fast forward 2 months, it's sleeting and we are doing power lunges in Copley (thank goodness those All Weathers came in), telling Boston we are here and ready to serve the community. Over the next 4 months we have a dozen snow days, which gives us the perfect opportunity to bond with our 5 roommates over a shared Family Size Box of Mac and Cheese. April brings a cross continental search for the Missing Green Clipboard, a lesson that would impact our listserve selection process forever more. Between all these memories, the team days, the professional development, ubuntu showcases, we managed to show up for every (10-14 hour) day to serve our students in our schools. We did dramatic readings of Percy Jackson: Lightning Thief, wrestled with the pythagorean theorm and PEMDAS, and made homework folders and planners to keep kids organized. Our students joined us in Before and After School Programming and we made a billion appreciation notes to our partner teachers. We woke up before the sun and called our students while we were on the bus, to make sure they met us at school on time. We walked LAPS (too bad fitbits weren't a thing yet, talk about step goals) around school buildings, listening and processing with our students so they were ready to put their best efforts forward in class. 
Before we knew it, we graduated and continued on our paths. Some paths kept us at City Year, some took us to graduate programs and into BPS as teachers and social workers. Some continued on other paths of service, including police, military and other AmeriCorps Programs and others entered the private sector. We went home, we stayed in Boston, we ventured to other parts of the country. However our paths developed, they all met in Boston in 2013-2014, and I believe we're better for it. 
Take a minute, revisit that time. Think about the laughs, the challenges, the growth. Reach out to a teammate you haven't spoken to in years. Research your school, what awesome things have been happening there? Check in on one of the dozens of CY couples that grew during service. Toss on the boots you left to be filled, and remember the idealist that first wore them, and if at the end you feel motivated to do so, please consider donating to City Year so others can have this opportunity. 

With Love and Gratitude to my Favorite People, 
Erin Burke
PS Check out the slide show below for some pictures from memory lane! 
City Year Updates
In March, Boston Public Schools (BPS) announced the closure of all 125 schools citywide. These school closures left 50,000 Boston students without access to in-person schooling.  City Year Boston is working closely with BPS to provide innovative distance learning opportunities to students, adapting our Whole School Whole Child program model to suit virtual spaces.
While teachers continue to provide whole-class instruction using platforms like Google Classroom or Zoom, City Year's AmeriCorps members are providing academic supports in English language arts/literacy and math by facilitating breakout groups, answering questions, and leading enrichment activities.  Our corps members are assisting teachers in planning lessons and reviewing students' assignments and holding office hours to provide one-on-one and small-group tutoring.  Importantly, our AmeriCorps members are also supporting students' social-emotional health and placing phone calls home to students and their families as a way to build connectedness, troubleshoot, and communicate updates. 
City Year Boston is one of the only partners to support Boston Public School students throughout the COVID-19 pandemic
City Year's support of virtual classrooms is a pivotal step in preventing learning loss and generating opportunities for new learning, as well as ensuring greater equity of experience among families who may not otherwise have the ability to facilitate in-home instruction.  Beyond this school year, City Year will continue to engage in the virtual space to support BPS students and will be in schools next year to support students when they will need more than ever.
What Does Virtual Service Look Like?
Our Supporters
Tyler Miguel

May 2020

$10.50

Wade Wisler

Spirit, discipline, purpose and pride yeaaaaa teamwork!

May 2020

$43.00

Robert Johnson

May 2020

$21.00

Anonymous

May 2020

Emily Murray

May 2020

$15.00
Grace Morton

May 2020

$100.00

Lincoln Giesel

May 2020

$52.50

Wade Wisler

Spirit, discipline, purpose and pride yeaaaaa teamwork!

May 2020

$43.00

Amanda Young

May 2020

$31.50

Annie Sloan

May 2020

$31.50
Team Badges
This team hasn't earned any badges yet.