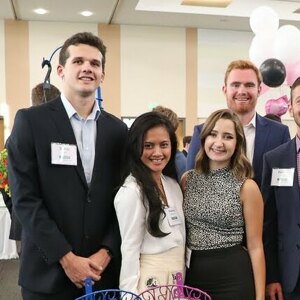 CoBA (College of Business Administration)
December 3, 2019
Your heart. Your impact. Your CSUSM College of Business Administration. The College of Business Administration is dedicated to the success of our students, our alumni and the entire San Diego region.
Find Your CoBA cause! Choose where to make an impact in CoBA on CSUSM Giving Day. Give with the #heartofacougar and help prepare students for a lifetime of leadership. Every gift counts!
*Match or Challenge gifts not reflected in fundraising thermometer. Learn more about our match and challenges.
Multiply your impact
Every gift, no matter the size makes a huge impact. Thanks to our challenges, even a small gift could earn our fund an additional $500 to $1,500! Your support means so much to us. Learn about our match and challenges.
Tell your story, create your own page
As an ambassador you have the ability to create your own page to share the story of why others should support a cause close to your heart.