Farm Life Harvest Fundraiser Series Description
OCTOBER 9 - 17, 2020
CONNECT WITH THE LAND.
DISCOVER TRADITIONS.
BE INSPIRED.
SUPPORTING  YOUR LOCAL MUSEUM AND LOCAL FARMERS. CONTENT WILL INCLUDE:
• Virtual tour scavenger hunt
• VIP preview of new 360 Farm Life
• Virtual Exhibit tour
• Pre-recorded speaker videos
• Cheesy trivia
• $5 Just Local Foods voucher for your own light appetizers
• Online Auction 
Virtual event only.
**$5 FROM EVERY TICKET WILL BE DONATED TO WISCONSIN FARMERS UNION TO SUPPORT EDUCATIONAL OPPORTUNITIES FOR BEGINNING FARMERS**
What to Expect
Virtual-Only: An exclusive website link let's you join in the fun from home PLUS receive a $5 voucher to Just Local Foods to use at any time. You will be able to:
Go on a virtual scavenger hunt

Test your cheese knowledge with a Cheesy Trivia game

Be the first to see a brand new 360 degree Farm Life Virtual Exhibit Tour

Watch pre-recorded speaker presentations, one from each theme

Listen to a live presentation by Chippewa Valley Museum Director Carrie Ronnander on October 16. Virtual tour scavenger hunt 

Bid online for gifts for others (or yourself!)
Sunnyview School House Mystery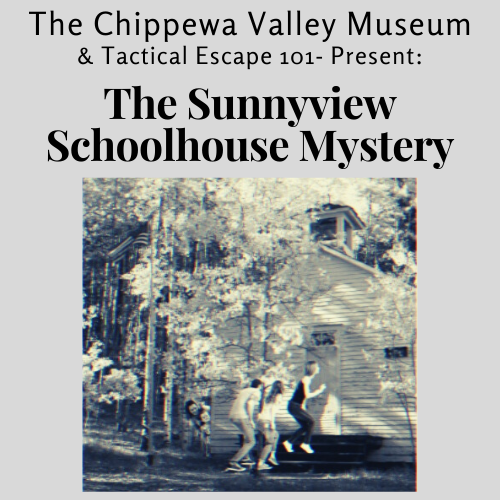 Event Special: Solve the Sunnyview Schoolhouse Mystery Escape Room, right inside Sunnyview School!

2-8 players per game: $150

Only 12 time slots available, during the Farm Life Harvest series. More dates available through November 1st.
https://www-1576g.bookeo.com/bookeo/b_te101vr_start.html?ctlsrc2=ep6WCFK2A%2FuGxhJZjlWR9rxqV4%2BRKmV0xUIJ12y%2FEZs%3D&src=01d&fbclid=IwAR2zaxWHa3AahYN2yk8T9CbO74816nb8zTPtCV608haxfAhc82n3lWOINGU&type=41576LFRJWK173F35614B8
Add this experience to your Farm Life Harvest ticket or play separately.