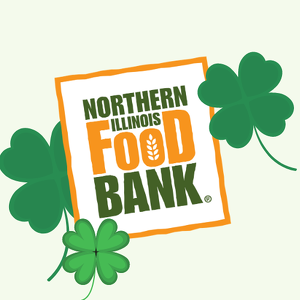 Charity Team for the Bank of America Shamrock Shuffle
Charity Team for the
Bank of America Shamrock Shuffle
Looking for a fun spring activity to add to your calendar? Supporters can join the Food Bank's charity team and sign up for the Shamrock Shuffle! Join before the virtual event on March 19th and fundraise to help solve hunger!
Click here to learn more about the Bank of America Shamrock Shuffle.
1. Register
Contact the Food Bank to learn more and review the official waiver prior to joining. By claiming a registration on the charity team, each participant commits to raising $350 for the Food Bank. Once accepted on the team, the Food Bank will provide the official registration link to claim your Shamrock Shuffle entry.
After you have officially registered, you will create your fundraising page by clicking the "Join Our Team" button and follow the steps to join our Shamrock Shuffle squad!
2. Fundraise
You'll raise funds to help feed neighbors in need, adding meaning to every step that you run or walk! We'll provide resources & tips along the way to help you reach your goal!
3. Train & Run!
Make sure to prepare for your race along the way, and then enjoy the team comraderie as you complete your goal!
Your Donation Makes an Impact:
  + Every $1 donated helps provide $8 worth of groceries for neighbors in need
  + 96% of the Food Bank's resources go to programs that feed neighbors in need
  + The Food Bank serves 13 counties in Northern Illinois, providing the equivalent of nearly 220,000 meals each day
Please consider supporting our efforts with a donation that will build hope for a family in our community! Every donation makes a difference.  
Thanks in advance!
Our Supporters
Thomas Volz

Run, Fast, Lisa! Love, Abigail, Lisa V and Tom

March 2021

$21.00

Kathy Kacen

March 2021

$50.00

David Burnett

Providing a wonderful sevice in an especially difficult time.

March 2021

Joyce Rousso

March 2021

$100.00

Judith Ottmar

March 2021

$52.50
Joyce Rousso

March 2021

$100.00

Edwin Keiffer

Way to go!

January 2021

$100.00

Katrina Keiffer

Priming the pump! Please join me to raise money for this great cause in our community!

January 2021

$100.00

Judith Ottmar

March 2021

$52.50

Kathy Kacen

March 2021

$50.00