Enchanted Hills Camp & Retreat – Building our Future
Our 73-year-old camp, the world renowned EHC, serves blind campers of all ages, as well as their families.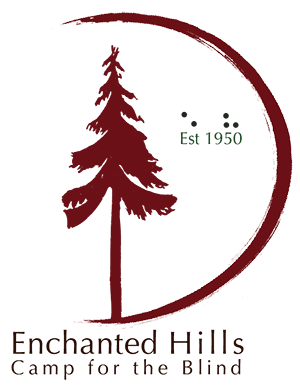 Enchanted Hills was founded in 1950 by Rose Resnick, an independent blind explorer who was far ahead of her time. Her vision was simple: She had the opportunity as a child to grow and learn by exploring the world around her and she wanted to bring this forward to thousands of blind children. In 1950, she was made aware of 311 acres near the summit of Mt. Veeder just west of Napa, California. Anyone who has visited Enchanted Hills Camp knows that it lives up to its name in every respect. It is literally a slice of freedom, independence, and magic where our imaginations see no barriers. We as blind individuals sometimes struggle to find opportunities to challenge ourselves and fit into our sighted communities. When we're at camp, we're all blind people learning and growing with each other and challenging ourselves to do our personal best every step of the way. We encourage our campers to go hiking and literally get lost together or with counselors and mentors. This is how we learn. Historically, we offered programs throughout the summer months for Little Learners and their families, teens, adults, and adults with special needs. We have offered some year-round programs, like our week long emersion to blindness training for adults who are newly blind, Changing Vision, Changing Lives. We also offer horse camps, music camps, chemistry and STEM camps, and so much more. We want people to come to Enchanted Hills Camp and push themselves to do things that make them feel uncomfortable, because when we're a bit uncomfortable is when we're most challenged to learn and grow.
In 2017, wildfires ripped through Napa and Sonoma counties. Enchanted Hills was, tragically, right in the path of the so-called Nuns fire, which caused us to lose hundreds of beloved redwood trees and over half our residential and recreational buildings. While we were devistated to see the wreckage, we embodied our true Enchanted Hills Camp spirit and decided to re-build like never before. We have a dream to build a year-round camp where blind and low vision community members, friends, campers, etc. have a place to come grow, explore, learn, and so much more for centuries to come. We also want to share our slice of magic with anyone who wants to join us, which is why we've chosen to invite groups of any size to use our facility as a retreat center.
We cannot do this work without the support of our community. We are a nonprofit who relies on the support of our community, our friends, and anyone who sees value in our mission. We cannot re-build Enchanted Hills Camp alone. We see anyone who helps us as part of our tight community. We ask you to come join us in San Francisco at our gala on Saturday, August 19, 2023 to join hands and make our dream, which only can be hatched at Enchanted Hills, a reality. There's much to be done, but we believe we can do it with you and transform dreams into realities for centuries to come.
2017 Napa Wildfires — Why We're Rebuilding
For decades, LightHouse staff, leadership, and board of directors have spoken of winterizing the cabins at Enchanted Hills and creating a year-round camp. When fire strikes and forces change, some people give up, some stand around and mourn their losses without the determination to change things, and some, like us, mourn our historical losses but never stop dreaming of the future. Witnessing this determination, Ryan Gregory, Napa County Supervisor of District 2, shared his thoughts,
"Enchanted Hills Camp is one of the most special places in my district. In addition to the wonderful opportunities, it provides to the blind community, it also serves as an ideal meeting place for the Mt. Veeder-area community. It was in 2017 when I became most familiar with the Camp under unfortunate circumstances—when the Nuns Fire ripped through the area and burned portions of the property. I was amazed at how quickly the Camp's leadership went from loss to 'let's get to work on rebuilding,' setting a standard for resiliency and strength for the entire community. Whether it's volunteering to run tandem bike rides for wellness camp, helping the Camp rebuild after fire or generally helping to further its mission, I will stand by their side as long as they need me." 
It's people like Mr. Gregory who see our determination and partner with us not only to talk the talk, but walk the walk. We're actively re-building, but so much still needs to be done. Large structures and buildings were removed from our re-build plans because we do not have budget for them. We made cuts of tens of millions of dollars of planned work because we need your help.
Please join us, renvision our dream, become a part of our dream, and help us re-build our beloved Enchanted Hills Camp. We can do this, but we need you to make our dreams realities.
Our gala will be an evening full of stories of how camp has transformed lives over the years, an excellent learning opportunity, silent and live auction lots you will not want to miss, and paddle raises to build structures we simply don't have the funds to build. And it wouldn't be a party without a fair bit of dancing and celebrating our dream-achieving accomplishments. Join our community, turn dreams into realities, and help us support campers as they build independence, lay the groundwork for prosperity, and experience the peace and joy found in nature.
Features of a New Enchanted Hills Camp and Retreat
Through your kind support at this year's gala, Enchanted Hills will not only continue the tradition of great programs but build a first-of-its-kind, year-round natural center for blindness learning.
Current Capital Campaign

Mixed-use cabins for families or groups
Indoor/Outdoor dining pavilion
Blindness Training Center
Accessible training kitchen
New pool house built with preserved redwood from 2017 wildfire
Expansive accessible hiking trails

Green Initiatives

Net-zero energy footprint with state-of-the-art solar system
Vegetable gardens and and fruit orchards
Self-sufficient water storage
Camp Update - February 2023
Giving to Enchanted Hills Camp