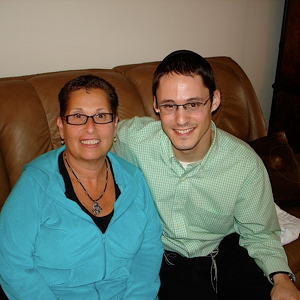 Welcome to Team B Positive
Welcome to our Team page!
Hello!
We are working with Gift of Life Marrow Registry to raise money for this year's Steps for Life 5k of South Florida on 1/19/20 (the day before Mom's Birthday)! Gift of Life is the Bone Marrow organization that found my mom's bone marrow donor Michael (pictured with Mom above), and he gave Mom an extra 8 years. 
To support our team with a donation, please click the orange Donate Now button on the right side of the page. You'll see that the donation increments now list out how many swab kits can be done with each donation.
For more details about the event, please visit www.giftoflife.org/stepsforlife. You can also email our Team Captain, David Simon at nyillini311@gmail.com if you have any questions.
If you want to sign up for the Bone Marrow Registry, you can at https://www.giftoflife.org/register
Thank you for all your support, and remember, every day is a gift. 
Tell people why they should support your team!
0
days
0
hours
0
mins
0
secs
Team Supporters
Pamela Schrank

February 2020

$30.00

Arlene Dryshpel

January 2020

$25.00

Sherry Silverman

January 2020

$18.00

Katrina Mullaney

January 2020

Charles Cohen

January 2020

Moir Bushell

January 2020

Paul and Judy Hollander

January 2020

$30.00

Rochelle Wasserman

January 2020

$100.00

Linda Fuchs

January 2020

$25.00

Jennifer Heitner

January 2020
Joel Simon

The Gift of Life gave Ellen a gift - her donor Michael. This gift gave her, David, Mallory and myself 8 more years of love, devotion, and positive attitude. I hope others get the same chance to enjoy LIFE!

January 2020

$2,625.00

Robert Diamond

January 2020

$2,000.00

Mallory Simon

For the incredible work, and for the years we got because a swab kit gave us the treasure of Michael as a match for mom, I can only wish other families find the same.

January 2020

$1,050.00

David Simon

January 2020

$1,050.00

WarnerMedia

January 2020

$1,000.00

Sirius XM Radio

January 2020

$1,000.00

Edna Auerbach

January 2020

$126.00

Daniel Schwartz

January 2020

$126.00

Marilyn and Kenneth Cherry

January 2020

$120.00

Gilbert Breitberg

January 2020

$105.00