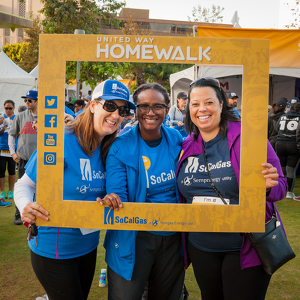 Team SoCalGas
October 6, 2020 - December 2, 2020
Join Sandra Hrna, Denita Willoughby, Gillian Wright, Jeff Walker, Neil Navin and Team SoCalGas to help end homelessness on Saturday, Nov. 14. 
For over 12 years, HomeWalk has been the one day where we come together to raise our voices and fight to end homelessness for our most vulnerable neighbors. Your support will continue to fuel the ideas and creative solutions that drive system change, increase the supply of affordable housing and impact United Way's work to end homelessness in LA County.
Since the pandemic, we have seen the inequities grow in our housing crisis with many families on the brink of eviction, job loss, and falling into homelessness. Now more than ever, our most vulnerable neighbors experiencing homelessness, especially seniors and those suffering from severe chronic health conditions, are at even greater risk of exposure and death.
You've proven that your heart is open to the struggles of our most vulnerable neighbors by showing up to HomeWalk in previous years. Now it's time to show up again to further fuel solutions to end homelessness. And since we're going virtual, now is the time to mobilize even more people to join you - so don't forget to invite friends, family and colleagues from afar!
EVENT SCHEDULE:
Virtual Run/Walk/Bike (around your neighborhood, your favorite hiking trail, etc.): Anytime throughout the day (as your schedule permits) 
Virtual Program (Tribute to Kobe Bryant and Cameron Boyce, the Los Angeles Rams, live entertainment and more): 5 - 6 p.m.
NOTE: If you are a SoCalGas employee, please register internally. Also, your contribution is match eligible. For more information, contact Claudia Andrade at CMAndrade@socalgas.com.
0
days
0
hours
0
mins
0
secs
Our Supporters
Rita Carr-Malone

6 hours ago

$26.50

Margaret Hernandez

8 hours ago

$26.50

Trisha Muse

Thank you Claudia for your passion to help end homelessness!

8 hours ago

$100.00

Anonymous

8 hours ago

$100.00

Anonymous

9 hours ago
Christine Keith

10 hours ago

$212.00

SAM TENORIO

A day ago

$200.00

Carrie Henley

11 hours ago

$106.00

Natalie Russell

The streets were never meant to be residences....for anyone.

A day ago

$106.00

Elsa Valay-Paz

March 2020

$106.00