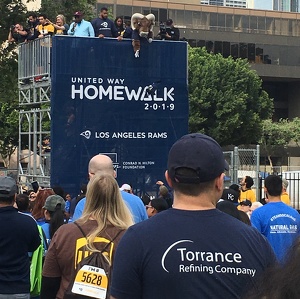 Torrance Refinery
October 6, 2020 - December 31, 2020
Team Torrance Refinery Helping to Solve The Homelessness Crisis
Torrance Refinery, now owned and operated by Torrance Refining Company (TORC), has been a long-standing supporter of United Way's efforts to create pathways out of poverty and is one of the earliest sponsors of HomeWalk. The Refinery has been supporting and participating in HomeWalk since its inception. This year, TORC is proud to once again support this impactful event to help raise funds to end homelessness and the level of awareness about bold solutions to bring Everyone IN, into the safety and comfort of a home.
Our team recognizes that far too many people were already experiencing homelessness before COVID-19, and since then, nearly 70,000 people experiencing homelessness had nowhere to shelter in place. Further, many families are on the brink of eviction and job loss, falling into homelessness. The pandemic strained systems, adding urgency to the work United Way had already been doing.
Now is the time to ensure that people who are struggling because of the pandemic don't fall into homelessness. Now is the time to show our homeless neighbors we value them and want to help to bring them safely inside. Now is the time to show them we care.
Let's HomeWalk at Home on Saturday, November 14. Invite family and friends to join us on this first-ever virtual HomeWalk – Spend the day doing your own 5k run/walk/ride, share photos and videos of your walk or run using #HomeWalkatHome then come back at 5 p.m. for a fun and dynamic virtual program! The program will feature live entertainment with the Los Angeles Rams cheerleaders, players, Coach McVay, and a tribute to HomeWalk supporters Kobe Bryant and Cameron Boyce.
0
days
0
hours
0
mins
0
secs
Our Supporters
Roya Bozorgnia

3 weeks ago

$200.00

Julie Bofinger

3 weeks ago

$500.00

Chuck Campbell

3 weeks ago

$250.00

Anonymous

3 weeks ago

$30.00

Debra Cunningham

3 weeks ago

$53.00
Julie Bofinger

3 weeks ago

$500.00

John Sakers

Last month

$251.00

Chuck Campbell

3 weeks ago

$250.00

Joe Carson

3 weeks ago

$250.00

Nancy Socolofsky

Last month

$250.00