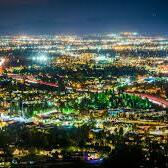 SF Valley Families
October 6, 2020 - December 31, 2020
Get Moving to Bring Everyone In: HomeWalk at Home
Spend Saturday, November 14th with us and power the movement to end homelessness.
Although we're sad we can't get together for our annual HomeWalk 5K this year, we're focusing on what we can do - SO we will celebrate "HomeWalk at Home." To stay safe, we're going virtual, because we cannot miss an opportunity to join together in the single largest annual event to end homelessness.
Before COVID-19, there were already far too many people experiencing homelessness in Los Angeles County. When our world changed in March, so did the lives of the more than 66,000 people experiencing homeless who had nowhere to shelter in place. The pandemic has strained support systems, adding urgency to the work we'd already been doing to bring everyone into safe and affordable housing. 
Many families are on the edge of eviction and job loss, at risk of falling into homelessness. Now more than ever our most vulnerable neighbors experiencing homelessness, especially seniors and those suffering from severe chronic health conditions, are at even greater risk of exposure and death.
We can HomeWalk at Home and show up for our homeless neighbors. 
Your support of this event will help power solutions to:
Accelerate the construction of new types of affordable housing

Improve services to provide care and safety to people with the most immediate needs

Change policy to keep people from falling into homelessness

Bring Everyone In ... to the safety and stability of a home
Join our team, challenge your neighbors, have fun with your family, and get moving!  Let's unite in a day of support for our homeless neighbors.
#HomeWalkAtHome
#ItTakesAllOfUs
0
days
0
hours
0
mins
0
secs
Our Supporters - It Takes All of Us!
Brenna Shenkin Pointe

3 weeks ago

$53.00

Brenna Shenkin

3 weeks ago

$106.00

Kristen Giang

You're amazing! Good luck!

4 weeks ago

$106.00

Diane Brower

What a great cause. Good luck in reaching your goal, Karina!

4 weeks ago

$106.00

GILBERT AZAM

5 weeks ago

$50.00
Brenna Shenkin

3 weeks ago

$106.00

Kristen Giang

You're amazing! Good luck!

4 weeks ago

$106.00

Diane Brower

What a great cause. Good luck in reaching your goal, Karina!

4 weeks ago

$106.00

Brenna Shenkin Pointe

3 weeks ago

$53.00

GILBERT AZAM

5 weeks ago

$50.00