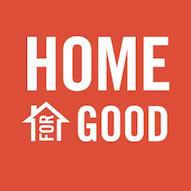 Home For Good
October 6, 2020 - December 2, 2020
Join Home For Good at HomeWalk 2020!
#HomeWalkAtHome
We are the awesome staff members of United Way's Home For Good team! Each day we get to work with amazing community members, leaders, and organizations like YOU in building homeless solutions in communities across LA County. But one very special day each year - HomeWalk - we get to come together with all of you to celebrate how far we have come together and commit to the work ahead.
Anyone and everyone is welcome to join our Home For Good team and help us reach our fundraising goal of $10,000! That's right, you heard us, now help us by registering to join our HomeWalk team.
While we can't get together for our annual HomeWalk 5K this year, we can still celebrate "HomeWalk at Home." To stay safe, we're going virtual, but we cannot miss an opportunity to join together in the single largest annual event to end homelessness and to support bold solutions to bring Everyone In, into the safety and comfort of a home.
We're looking forward to seeing you on Saturday, November 14th, as we #HomeWalkAtHome!
0
days
0
hours
0
mins
0
secs
Our Supporters
Mindell Smulowitz

14 hours ago

LeBron Colvin

A day ago

$200.00

Bobbi Rubinstein

2 days ago

$26.50

Jacob Stevens

HAPPY BIRTHDAY CARTER!! KEEP UP THE GOOD WORK!!

2 days ago

$250.00

Donna Blansett

3 days ago

$100.00
Jacob Stevens

HAPPY BIRTHDAY CARTER!! KEEP UP THE GOOD WORK!!

2 days ago

$250.00

LeBron Colvin

A day ago

$200.00

Donna Blansett

3 days ago

$100.00

Bobbi Rubinstein

2 days ago

$26.50