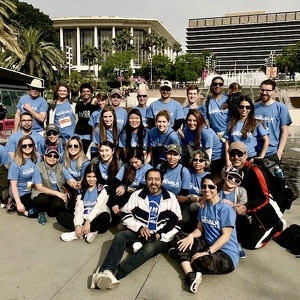 Team Bobrick
October 6, 2020 - December 31, 2020
Join Team Bobrick once again on Saturday, November 14th  in the fight to end homelessness. 
When our world changed in March, so did the lives of the more than 66,000 people experiencing homeless who had nowhere to shelter in place. The pandemic strained our systems, adding urgency to the work we'd already been doing to bring everyone into safe and affordable housing.

Since the pandemic, we have seen the inequities grow in our housing crisis with many families on the brink of eviction, job loss, and falling into homelessness. Now more than ever our most vulnerable neighbors experiencing homelessness, especially seniors and those suffering from severe chronic health conditions, are at even greater risk of exposure and death.

You've proven that your heart is open to the struggles of our most vulnerable neighbors by showing up to HomeWalk in previous years. Now it's time to show up again to further power solutions to end homelessness. And since we're going virtual, now is the time to mobilize even more people to join you - so don't forget to invite friends, family, and colleagues from afar! 
0
days
0
hours
0
mins
0
secs
Our Supporters
Will Butenschoen

3 weeks ago

$100.00

Hazel Nunez

3 weeks ago

$100.00

Rosa & Ricky Elias

3 weeks ago

$50.00

Anonymous

3 weeks ago

Anonymous

3 weeks ago
Robin Lamm-Rosales

3 weeks ago

$159.00

David McCoy

4 weeks ago

$124.02

Karen Foster

3 weeks ago

$106.00

Dennis Urie

4 weeks ago

$106.00

Xavier Webster

Keep spreading the love fam.

Last month

$106.00