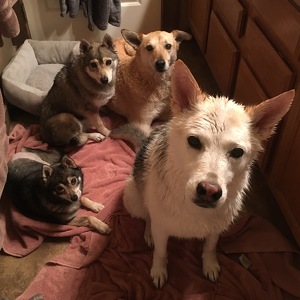 Our Team Fundraising Page
Chipper, Cheyenne, Dakota, & Kaylee!
Hi! I'm Chipper, a therapy dog dropout and author of "Chipper's Friends," "Chipper Unleashed," and "Chipper and Cheyenne." My sisters (Cheyenne, Dakota, and Kaylee) and I will be participating this year's Barefoot Mile event to raise money for JOY International!  WOO HOO!  JOY International, a registered non-profit founded in 1981 by my friend Dr. Jeff Brodsky, is located right by our house in the Colorado Rockies-- and is dedicated to the rescue, restoration, and reintegration of children, teens, and young women affected by trafficking worldwide (including the USA).  
Brothel owners often take the shoes of the children to keep them barefoot so it's more difficult for them to run away. Cheyenne, Dakota, Kaylee, and I will be walking one mile barefoot (with gobs of other folks) to show our support for these kids.
We hope you and your pets will sponsor us!  We are trying to raise $2500 because that's the average cost for one rescue operation in Cambodia.
Thank you for change the world with us—We really dig you!
0
days
0
hours
0
mins
0
secs
Our Supporters
Helen Manning

June 2019

$102.85

Susan Felker

Saw Dr Brodsky on Huckabee. Such good work..made me cry. Thanks Chippers Friends!

June 2019

$51.42

Lesley Telfort

June 2019

$51.42

Lynn McMahon

June 2019

$20.57

Anonymous

Thanks to Pups with a Purpose (Chipper's Friends) for sharing the word, and walking the barefoot mile to support JOY International!

June 2019

$102.85
Helen Manning

June 2019

$102.85

Anonymous

Thanks to Pups with a Purpose (Chipper's Friends) for sharing the word, and walking the barefoot mile to support JOY International!

June 2019

$102.85

Ann Heiss

June 2019

$102.85

Yumi Petersen

June 2019

$102.85

Tamara Lee

June 2019

$102.85