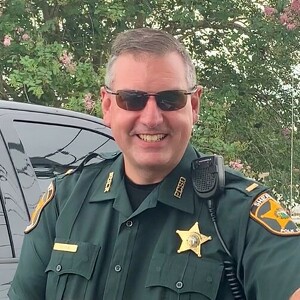 Lt. Jim Ostojic
August 4, 2020 - October 29, 2020
My Personal Fundraising Page
Leave No Child Behind!
Over my nearly 26 year career, I have been asked to participate in many good charity events. This year I was asked to participate in this event, I immediately answered the call and accepted the nomination. This event touched my heart on a personal level when recently a friend's child was having difficulty with speech and hearing. He is extremely important to me, as it is my daughter's best friend. He was losing confidence and having tantrums because no one could understand his speech. After going through evaluations and receiving assistance from the Speech and Hearing Center with speech therapy, the child's speech started to greatly improve. This led him to gain his confidence back, not only with adults, but with kids his own age too.  
Once I became a candidate, I was offered a tour of the Speech and Hearing Center. I attended the tour and learned of many of the great services they provided for the children and the elderly. It is amazing the services that the wonderful staff at the Speech and Hearing Center provide to people on a daily basis.  
Though each candidate has their reasons for participating, I would like to share one more short story in order to explain why this organization is so important. After my tour, I was assisting with another event later in the week and was approached with a very heartfelt story. This gentlemen had no reason to share this story with me, and with it being quite personal, I was honored he did. He shared with me that one of the children that he was helping to raise was continuing to have behavior issues and seem to not be listening. Time and time again the child was disciplined for not listening and the man was becoming frustrated with the situation. It was later discovered through a hearing test that the child was hearing impaired. To this day, the gentlemen was emotional, because of the years the child was viewed as a disciplinary problem as a result. A simple hearing test which is something the Speech and Hearing Center provides could have solved this child's issues.
With both of these children's stories in mind, my philosophy for MR. Central Florida is to "Leave No Child Behind" this year. Without this event, a child may not receive the services they need. Please assist me in LEAVING NO CHILD BEHIND.  I truly feel blessed by serving the community and being a part of this event.  Vote for me and help me accomplish our goal.
Help me Meet my Goal!
0
days
0
hours
0
mins
0
secs
My Supporters
Burnetti, P.A. & Burnetti Childrens Foundation

17 hours ago

$2,500.00

Bobby & Karen King

A day ago

$105.50

Maurice Auto Repair

A day ago

$100.00

Webb's Towing & Recovery

A day ago

$100.00

Averett Septic Tank Co.

A day ago

$100.00
Anonymous

Last month

$5,000.00

Burnetti, P.A. & Burnetti Childrens Foundation

17 hours ago

$2,500.00

Air Commander's Heating & Air Conditioning Co.

What a great cause! Thank you for all your efforts, Lt. Ostojic! From Air Commander's Heating & AC.

4 weeks ago

$2,500.00

Beef O'Brady's

3 weeks ago

$2,000.00

Kevin Humphries - Lopez & Humphries, P.A.

Best of luck from Lopez & Humphries, P.A.!

1 week ago

$1,000.00