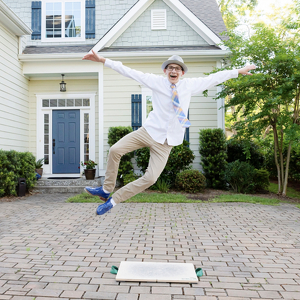 Dylan Szuch
August 13, 2020 - October 31, 2020
My name is Dylan Szuch I am 15 years old and a tap dancer in Wilmington, NC.
I am super excited to take part in this wonderful fundraiser.  Thank you for helping me support this amazing organization, all donations will be greatly appreciated.   Together we can make a difference in the lives of those who need it most.   Thank you so much!
With your support, the Carousel Center (TCC) serves almost 500 children annually when there are concerns of sexual, or physical abuse and neglect. Your support provides services in a nurturing, friendly, and safe environment at no cost to the child's family. 
TCC is the region's only nationally-accredited, a 501(c)(3) nonprofit, child advocacy center. TCC assists community partners to hold child abuse perpetrators accountable, while simultaneously assisting child survivors and their families who have experienced physical/sexual abuse in Brunswick, New Hanover and Pender counties to do the hard work of healing and get back to simply being children.  For more information, visit: www.carouselcenter.org 
Dormeshia's Combo for National Tap Dance Day 2020
This is what we are raising donations for!
Team Badges
This team hasn't earned any badges yet.
Our Supporters
susan Lester

We appreciate this cause, love Dylan, our dancer, and wish you all the best. Susan and Tim Lester

3 weeks ago

$50.00

Erica Hales

3 weeks ago

$52.50

Benjamin Alexander

Good luck, Dylan!

3 weeks ago

$20.00

Terence Walters

Pleased to donate for such a needy and worthwhile cause

3 weeks ago

$136.50

Clare Kalina

3 weeks ago

$52.50
Eddie and Heather Parrish

Dylan, thank you for sharing your talent and supporting this great cause! You are indeed talented!

4 weeks ago

$262.50

Terence Walters

Pleased to donate for such a needy and worthwhile cause

3 weeks ago

$136.50

Erica Hales

3 weeks ago

$52.50

Clare Kalina

3 weeks ago

$52.50

susan Lester

We appreciate this cause, love Dylan, our dancer, and wish you all the best. Susan and Tim Lester

3 weeks ago

$50.00