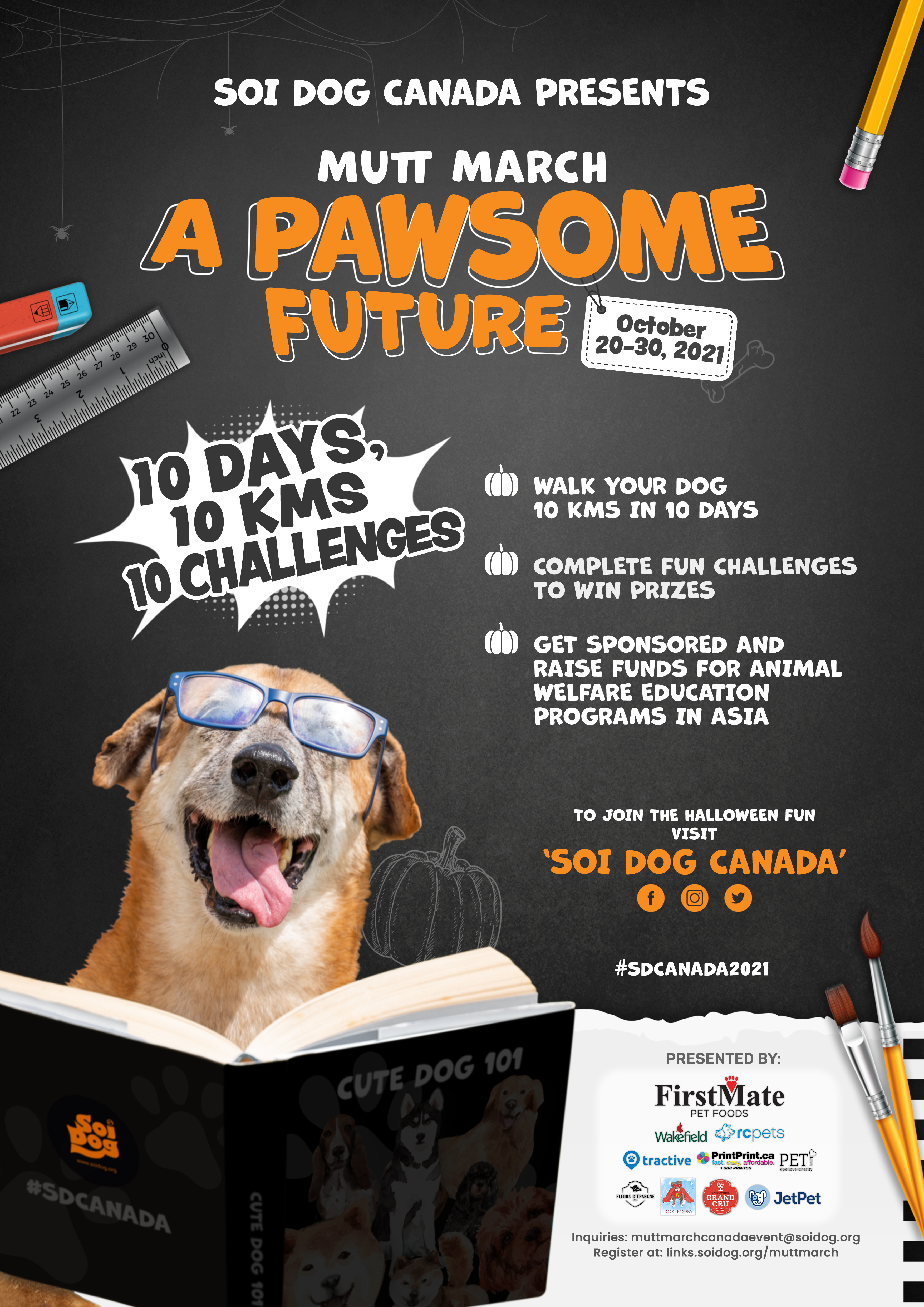 Registered Participants - complete the special Sponsor Quiz to learn more about
our generous sponsors, and be entered for a Bonus Prize! 
Outside of Canada Credit Card?
For those of you outside of Canada who are trying to donate to our cause, please note that the amount you donate is actually in CANADIAN DOLLARS. If you want to know how much to donate in Canadian Dollars the xe website can give you up to date currency exchange rates.  Please note, the credit card processor does not accept Discover cards and may decline some non-Canadian cards. We really appreciate every donation, and would kindly ask that if your card is declined you donate through Pay Pal. When donating through Pay Pal please make a note that it is to go to Mutt March 2021, and the name of the participant you are sponsoring.  Our Pay Pal name is  donate-canada@soidog.org
SOI DOG CANADA
MUTT MARCH 2021
presents
"A Pawsome Future" - A virtual worldwide fundraising event
10 DAYS / 10 KM / 10 CHALLENGES!!
October 20 - 30, 2021
#SDCanada2021
A Pawsome Future
Are you ready for some fun?  Once again, the 2021 Mutt March is going virtual.  Test your skills, take lots of photos & videos, learn some interesting new stuff, and along the way you'll be helping to fund our on-going Education Program, and raise awareness for finding a Pawsome Future for the deserving Soi Dog dogs and cats.  
Check it out - we've come up with 10 fun "award-winning", skill testing challenges, plus a 10K walk along the route of your choice. Participate in one, some, or all of these challenges ... try something new … challenge your friends … and get a jump start on Halloween!  By participating, you will be in the running for some awesome prizes, while helping Soi Dog Canada achieve our 2021 fundraising efforts. 
To be entered for a prize, simply upload a video or photo of yourself completing each of your challenges, using the hashtag #SDCanada2021 on Facebook, Twitter, or Instagram.  No social media?  No problem!  Contact us, and we'll walk you through it.
Also be on the lookout for a special SPONSOR QUIZ.  Correctly answer all the questions for a chance to win a bonus prize.
All entries should be uploaded between October 20 and October 30, 2021.  Don't forget to share with your friends!
The donations you raise through Mutt March 2021 will directly benefit Soi Dog Foundation's ongoing Education Program.  Soi Dog Foundation believes that people's attitudes towards animals are formed at an early age. If more people grow up with empathetic attitudes to dogs and cats, there will be fewer cases of cruelty and neglect.
An important component of the Soi Dog education programme is the teaching of the 'Five Freedoms', from the Universal Declaration on Animal Welfare (UDAW). Conceived in 2000, UDAW is a proposed agreement to recognise that animals are sentient, to prevent cruelty and reduce suffering, and to promote standards on the welfare of all animals, including companion animals.
To guide this, Soi Dog devised an education programme for schoolchildren, starting at primary school age. The initial rollout of the programme was in 2017 and the addition of the Soi Dog Humane Education Centre at the sanctuary in 2020 now allows for further development of the program.
 A portion of the proceeds from Mutt March will also assist the following four Canadian animal organizations with their critically important and underfunded spay/neuter programs:
Canadian Animal Assistance Team (BC)
Canadian Animal Task Force (AB)
Northern Spay Neuter Program (ON)
Manitoba Underdogs (MB)
Soi Dog Canada is a registered non-profit incorporation (number: 981179-6)
0
days
0
hours
0
mins
0
secs
Pucker Power Challenge 2020
Talk to Us Challenge 2020
Cookie Monster Challenge 2020
Soi Dog Canada will donate 5% of proceeds raised to the following organizations
      CANADIAN ANIMAL TASK FORCE
      CANADIAN ANIMAL ASSISTANCE TEAM
      NORTHERN SPAY NEUTER PROGRAM
       MANITOBA UNDERDOGS RESCUE